Vacuum mixer refrigerator for catering & Horeca
Quickly cool down to -24°C while creating vacuum into the bowl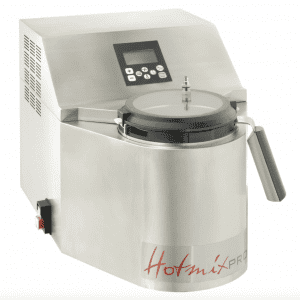 Over time, the cooking techniques advancements and technological innovations pushed each other forward, in a constant growth of performance and open possibilities; the chefs' necessities get more advanced, but so do the available techniques and technologies, and the two factors impact on each other. Cutters and mixers gradually evolved to thermal mixers with built in cooking capability, and then these evolved further, with memory, cooling, and even depressurization… but no one tried to put into one machine both coolingand vacuumat the same time, in this kind of unit.
HotmixPRO Breeze is a vacuum mixer with cooling functions, and the first to do both things in a single machine. Featuring temperatures as low as -24°C, a perfect temperature control, many different speeds ranging from 0 (zero) to 16000 rpm, and all the usual features that allow HotmixPRO units to grant a real standardization of the outcomes.
Having both the power of cooling and vacuum to blend, mix and whip grants unexpectedly high level results, because the absence of oxygen and pressure and the low temperatures simply won't allow for any change in the color -or organoleptic properties- of the ingredients. Excellent for any kind of emulsion, since it stabilizes the proteins of the ingredients and avoids any oxidation possibly due to the heat of the blades. Think about smoothies bars, that are often forced to add ice to the ingredients just so that they won't heat up during preparation.
---
These game-changing and exclusive features introduce a new level of comfort in the kitchen: no more is required the constant operator's presence to use the machine. Many recipes are simply accomplished by inserting the ingredients, selecting the recipe, and pressing START.
Thanks to the combination in one unit of programmable memory and perfect temperature control, HotmixPRO Master Breeze grants constant, optimal results, which are always standardized.
You can even let your staff safely use it. As long as they will use your recipes (and of course, the right ingredients) nobody will be able to tell the difference. You can also share your recipes based on the same principle, be it with colleagues, friends, or other restaurants in your chain.
It's as easy as finding a file on the SD card of the unit, copying it and sending it via email.
Finally, thanks to the WT (Wait Temperature) function, even in case of a difference in the quantity and starting temperature of the ingredients, the final result will be granted.
---
So in a few words, here are the main advantages of HotmixPRO Master Breeze:
You will save time, and you will be free to do more critical things
Theoretically, you will get rid of human error during the most complex preparations
You will standardize the quality of your recipes
Your job will get less stressing, and thus more pleasant
---
Discover the entire range of Procesador de alimentos multifunción profesional.
---
Oustanding Performances!
Refrigeration down to -24°C

with degree by degree temperature control;
Always perfect results, no matter the starting temperature or quality of your ingredients, thanks to the unique WT (Wait Temperature) feature, that allows to start a timer only when the goal temperature is reached;
From 0 to 16.000 rpm, with 26 intermediate speeds thanks to the powerful motor rated 1.800W;
You can store your own recipes, and even share them
Set several steps in a recipe without requiring the operator's intervention to switch from one to the other;
Up to 12 continuous hours of non-stop operations thanks to the TURBO AIR MOTOR SYSTEM;
Self-diagnosis prividing useful infos on the display, and possibility to download updates via web;
Never overheated. You will always be able to finish your recipe, even in case of stressed motor, thanks to the exlusive dynamic motor protection system. When the motor is over stressed, the software forces it to stop for a few seconds, while keeping all the other features active. After which, it is free to restart working. This avoids overheating, and thus minimizes the chances of a total motor block that would -temporary- interrupt the procedure comopletely, possibly ruining the recipe.
---
Los detalles hacen la diferencia!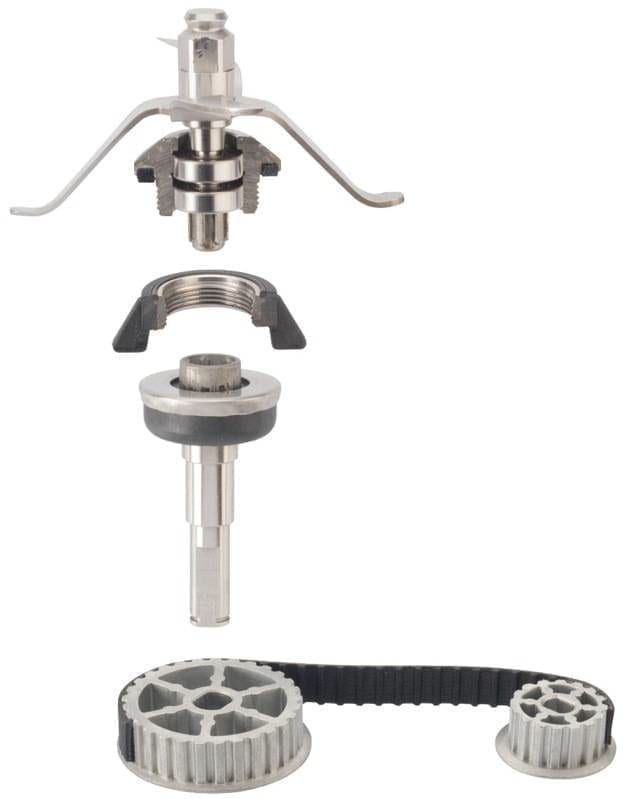 Estructura 100% acero inoxidable AISI 304
Cuchillas hechas totalmente en acero inoxidable:
Cuchillas obtenidas de una pieza sóla para una mayor robustez y facilidad de limpieza.
Rodamientos en acero inoxidable japonés que permiten el lavado en lavavajillas.
Conexiones de transmisión en microfusión de acero para una larga duración.
Poleas en acero que garantizan siempre la transmissión de la potencia máxima.
---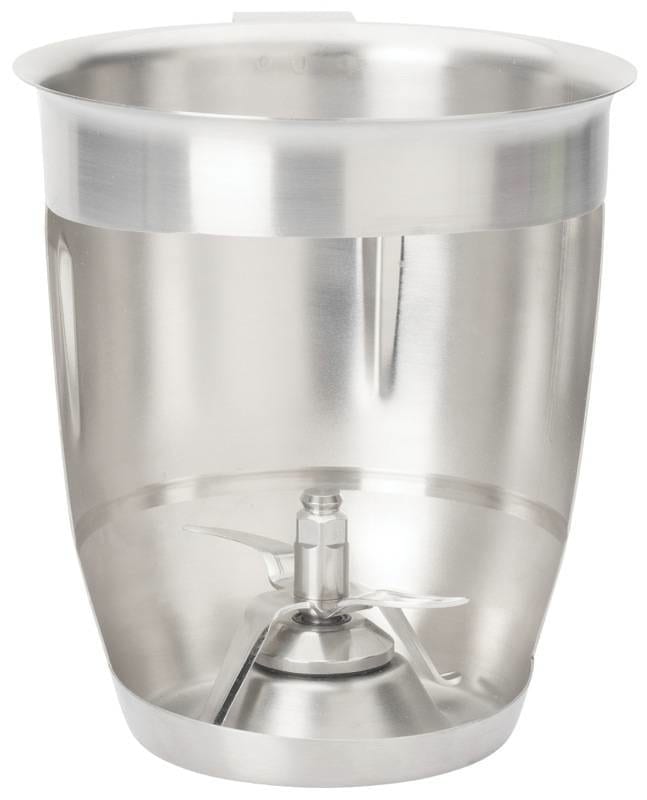 Fácil a limpiar
Todas partes en contacto con la comida, cumpliendo con las normas, se desmontan con facilidad y se pueden lavar en el lavavajillas.
Flexible
La forma particular de cono del vaso permite trabajar sea pequeñas cantidades sea grandes cantidades.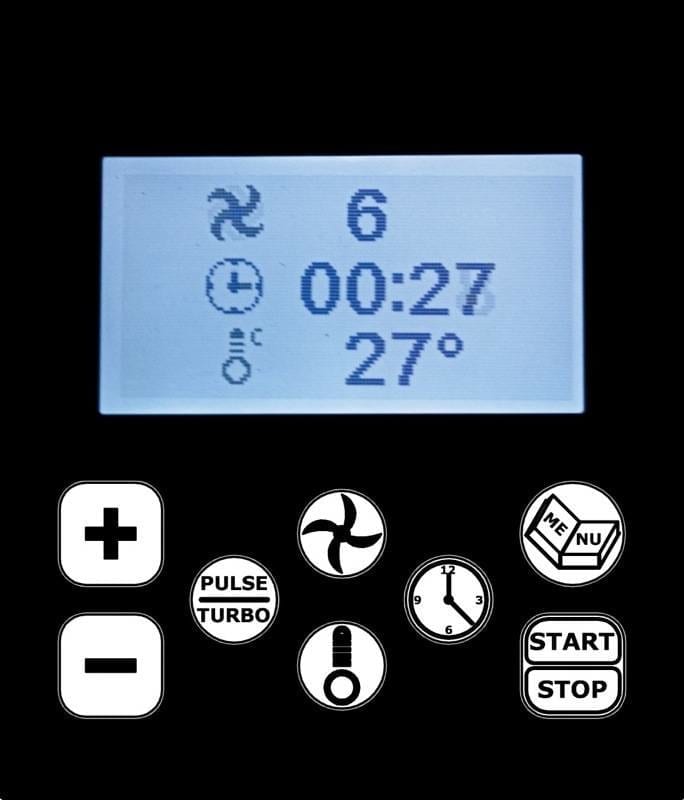 Símbolos intuitivos
Fácil a utilizar desde el principio gracias a los símbolos simples e intuitivos.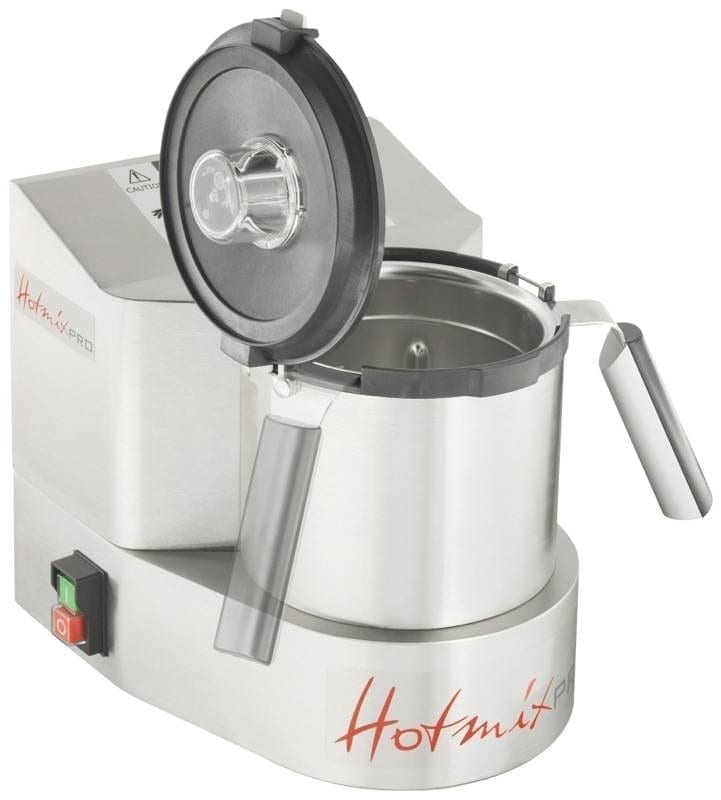 Personalizable
Guarda tus recetas, hasta 16 step consecutivos en cada una, así que sean siempre disponibles y repetibles sin error humano. Y hay recetas prememorizadas (hasta 400). Además, el vaso y tapa se pueden posicionar sea a la derecha sea a la izquierda...perfecto también para los zurdos.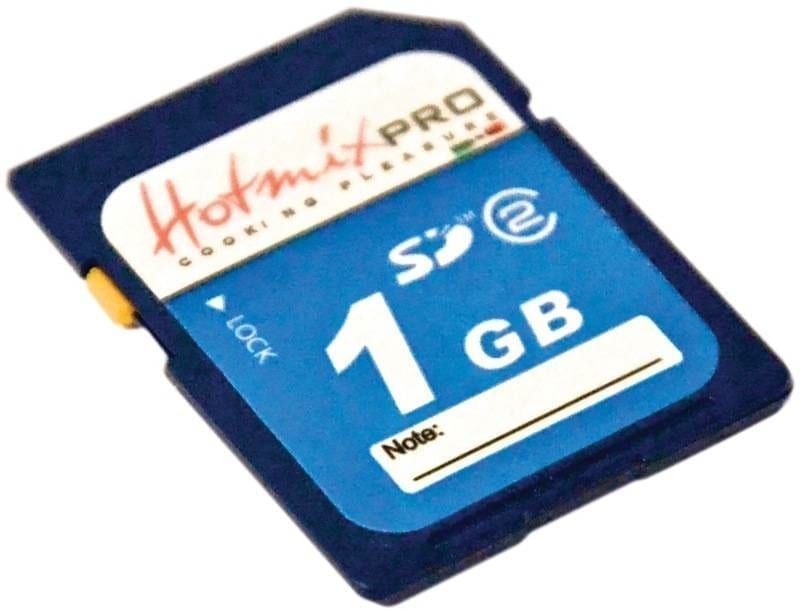 ---
¡Simples y eficientes!
La característica que hace único e insostituible HotmixPRO, es su capacidad de trabajar cualquier tipo de comida, como por ejemplo cremas, salsas y mermeladas, evitando todas las etapas que necesitan de la presencia constante del operador, que normalmente tendría que plantear muchas veces los mandos de la máquina para realizar la receta.
La comodidad es que se insertan todos los ingredientes en el vaso y, gracias al control preciso de la temperatura, se obtiene directamente el producto final. HotmixPRO mezcla el producto de manera constante, con la posibilidad de elegir velocidad y temperatura apropiadas para lograr la perfecta ejecución en cada preparación.
Eso permite realizar recetas sin incurrir en pérdidas de tiempo, siempre garantizando la calidad de los productos.
Mediante el uso de HotmixPRO, el profesional más exigente encontrará la oportunidad de elevar la calidad de cada preparación gracias a los precisos controles de la máquina: podrá estandardizar las mejores recetas, para que incluso sus colaboradores puedan repetirlas cotidianamente.
Gracias a HotmixPRO, podrá realizar con facilidad y calidad una multitud de actividades que anteriormente, por falta de tiempo y personal, no podía hacer.
¡No será necesaria la presencia constante del operador!
Después de haber creado una receta nueva, podrá guardarla en la tarjeta SD, o, simplemente, podrá elegir una entre las tantas prememorizadas. Tendrá más tiempo para fijarse sobre otras tareas. Cosas que hasta hoy podían parecer complicadas y a veces imposibles, serán más rápidas y sencillas en el futuro
El profesional podrá enriquecer su oferta, con consiguiente gratificación de sus clientes.
---
Technical Specifications:
Max Bowl Capacity
2lts
RPM min / max
0 - 8'000 rpm
Speeds
26
Max continue work hours
12
Temperature Range
down to -24°C
Final Vacuum (absolute mbar)
80-90%
Power - Frequency
220V / 240V
50Hz
Compressor Power
250W
Motor Power
1'800W
"turbo air motor system"
Pump Power
100W
Max Total Power
2'150W
SD card
YES
Body
Stainless Steel
Net Weight
30Kg
Accessories
Blades, mixing paddle, lid with measuring cup, spatula, whisking paddle, sous-vide support
Mira a la gama HotmixPRO!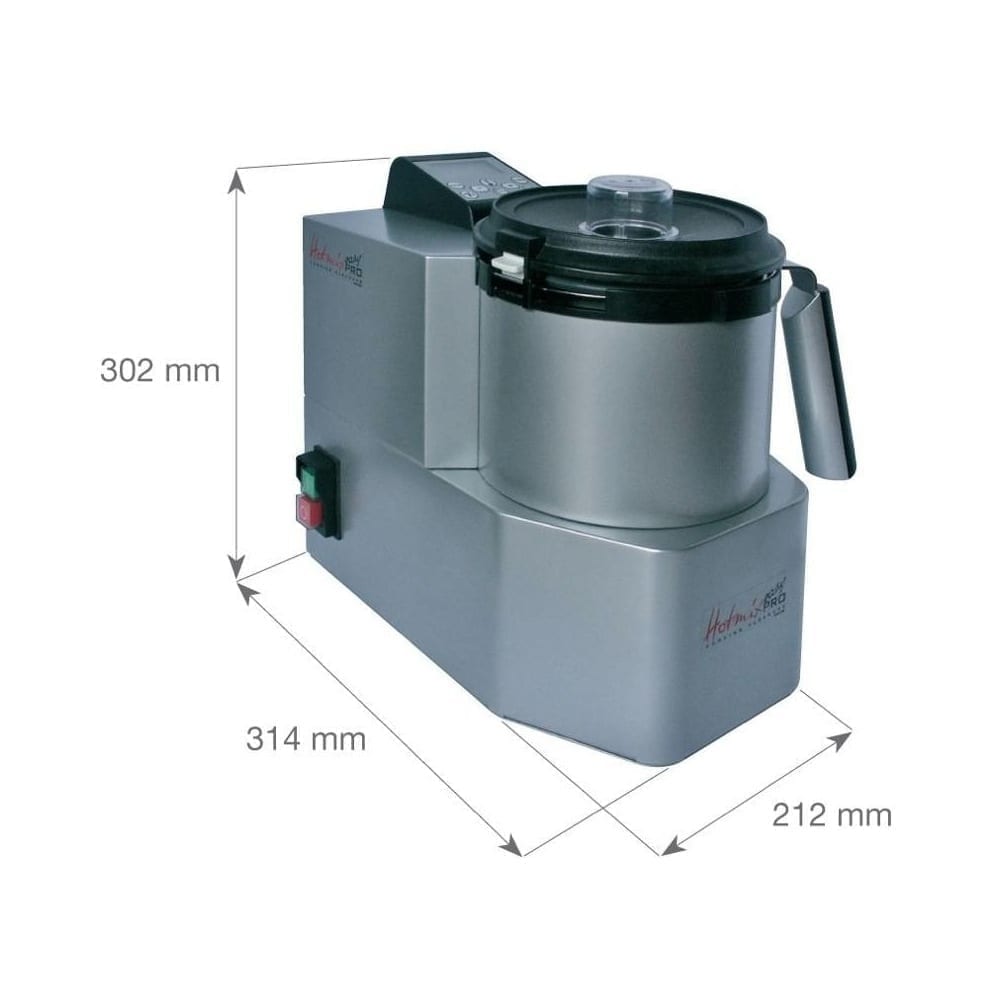 HotmixPRO Easy:
Desde 24°C hasta 130°C, cuerpo en acero pintado, hasta 10'050 revoluciones de las cuchillas.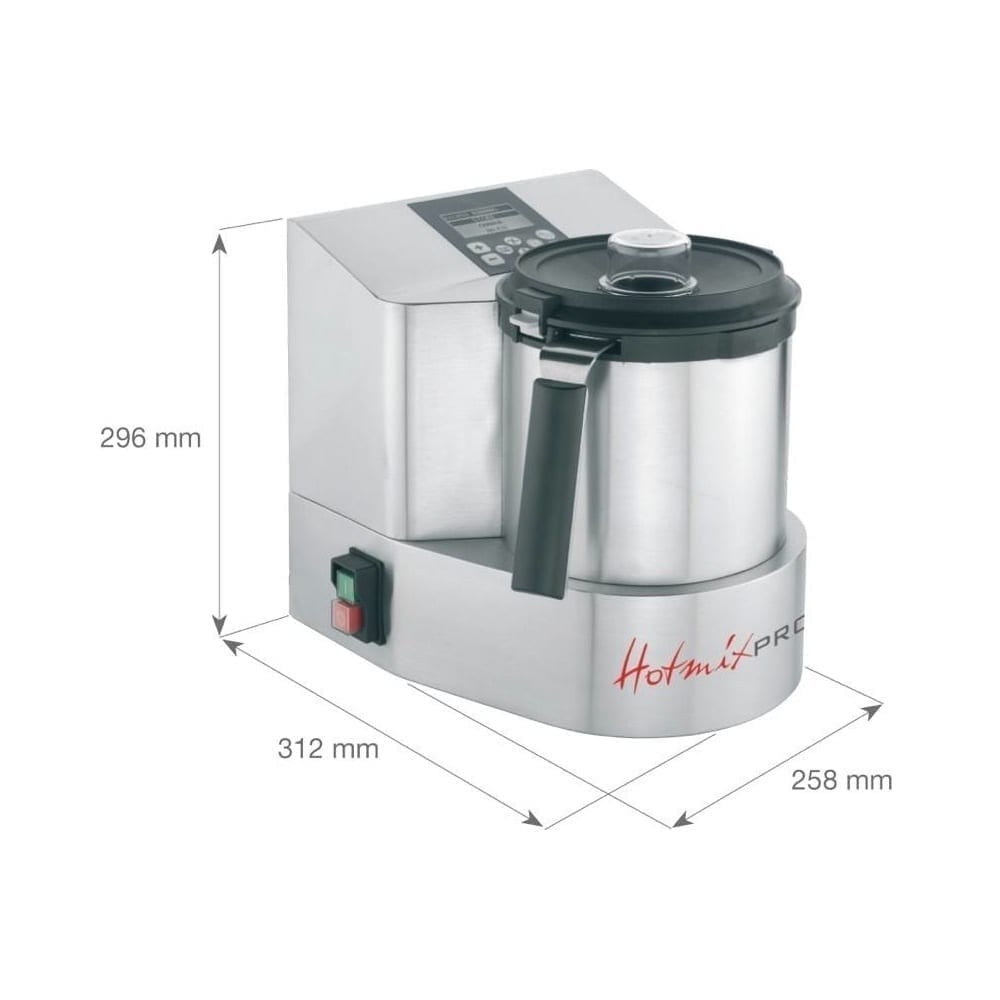 HotmixPRO Gastro:
Desde 24°C hasta 190°C, cuerpo en acero inoxidable, hasta 12'500 revoluciones, memoriza recetas y más!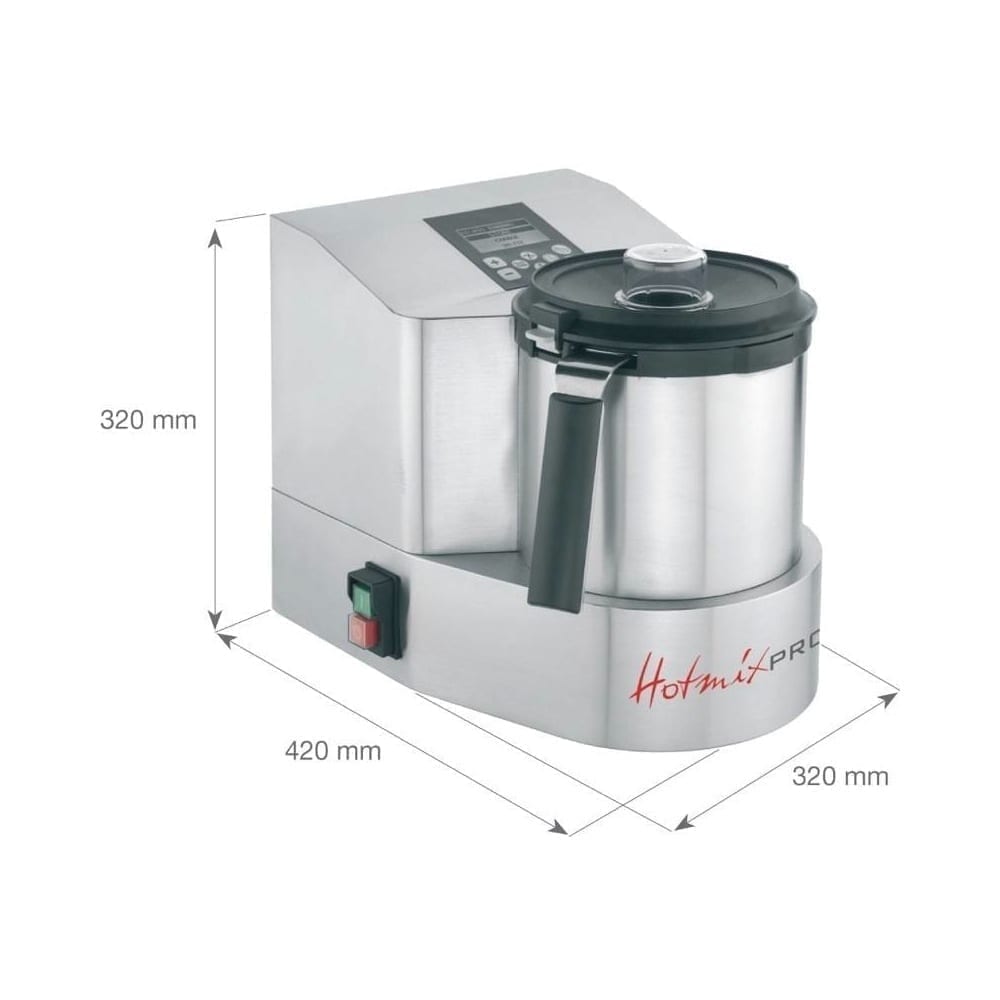 HotmixPRO Gastro X:
Desde 24°C hasta 190°C, hasta 16'000 revoluciones, hasta 12 horas de trabajo… potente e incansable!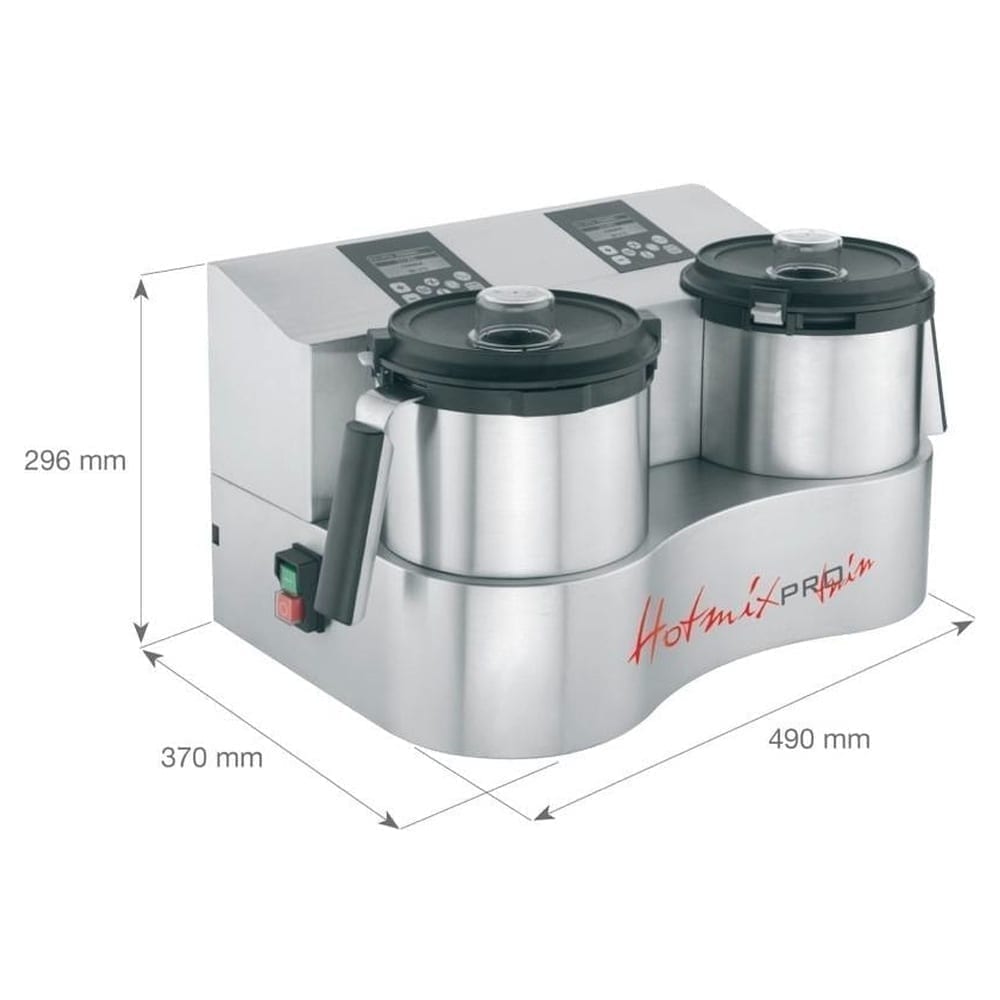 HotmixPRO Twin:
Desde 24°C hasta 190°C, hasta 12'500 revoluciones de las cuchillas, dos vasos independientes!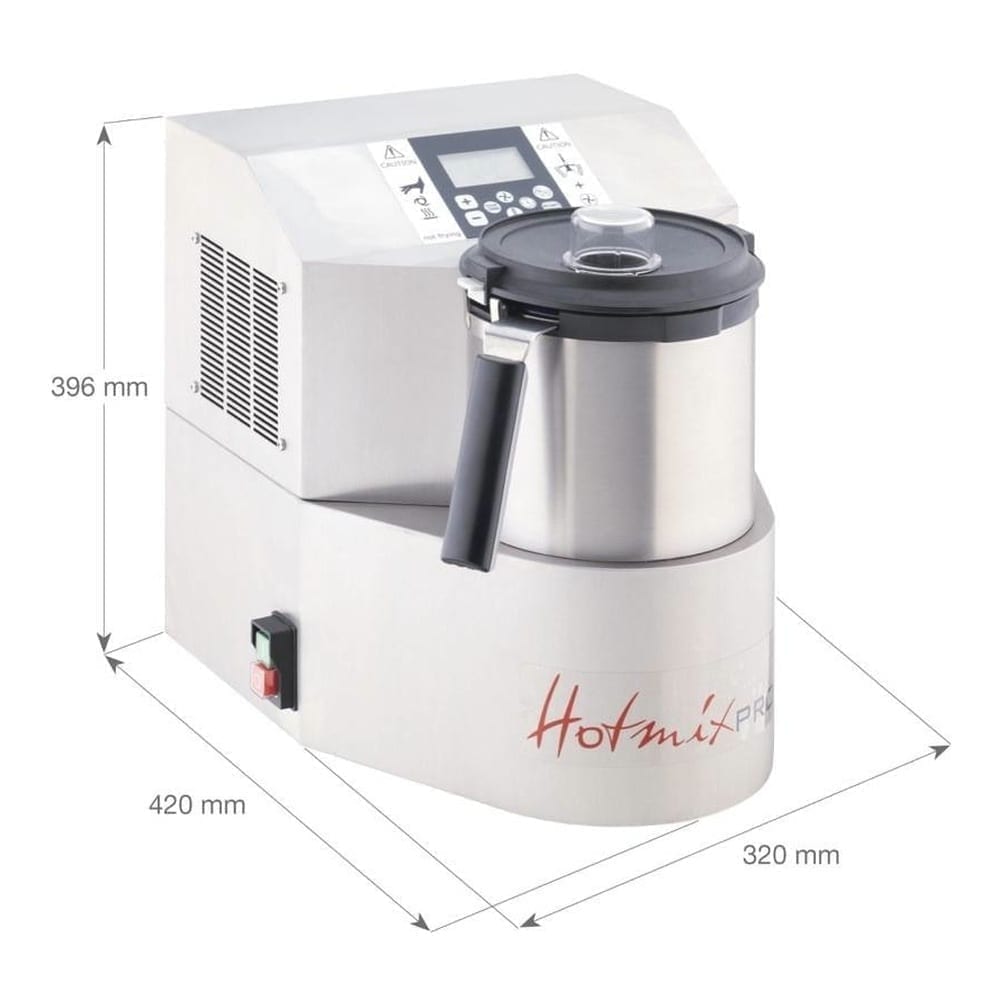 HotmixPRO Gastro XL:
Desde 24°C hasta 190°C, hasta 16'000 revoluciones, hasta 12 horas de trabajo…y 3 litros de capacidad!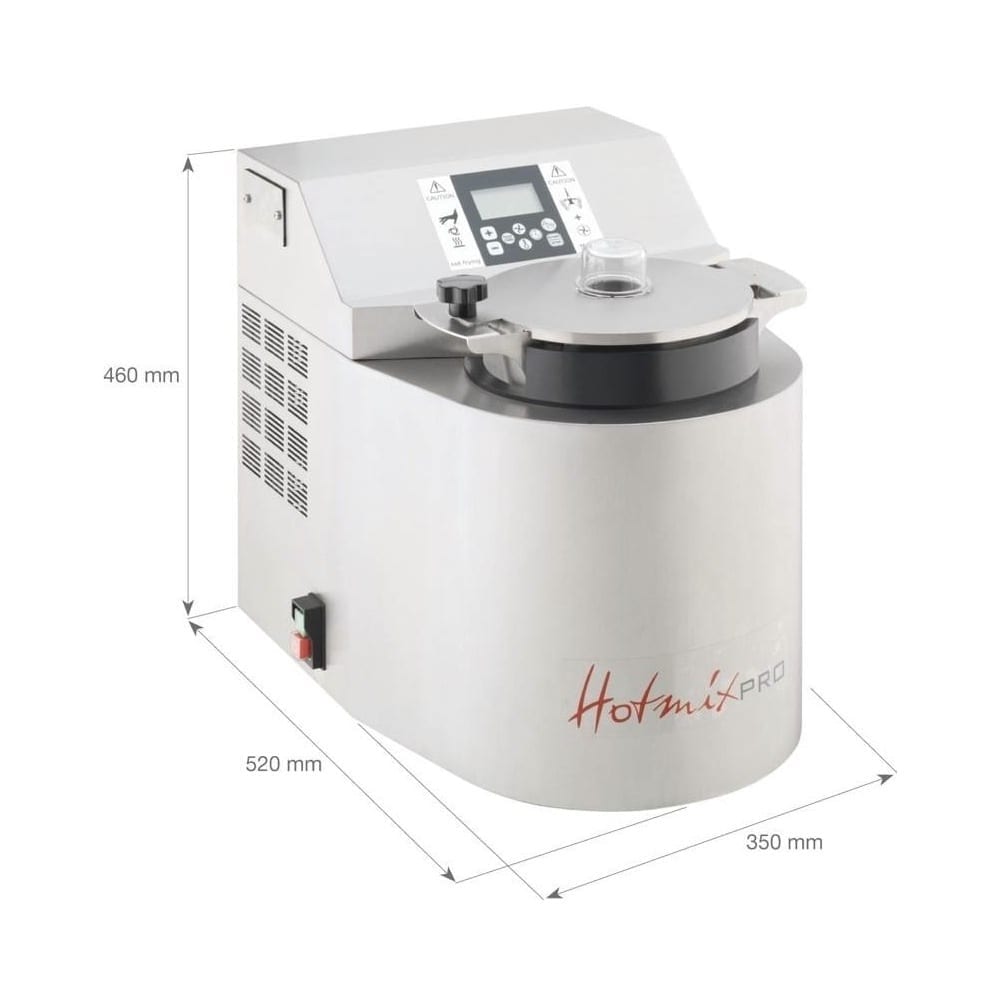 HotmixPRO 5 STARS:
Desde 24°C hasta 190°C, cuerpo en acero inoxidable, y una capacidad de 5 litros, ideal para los restaurantes más grandes!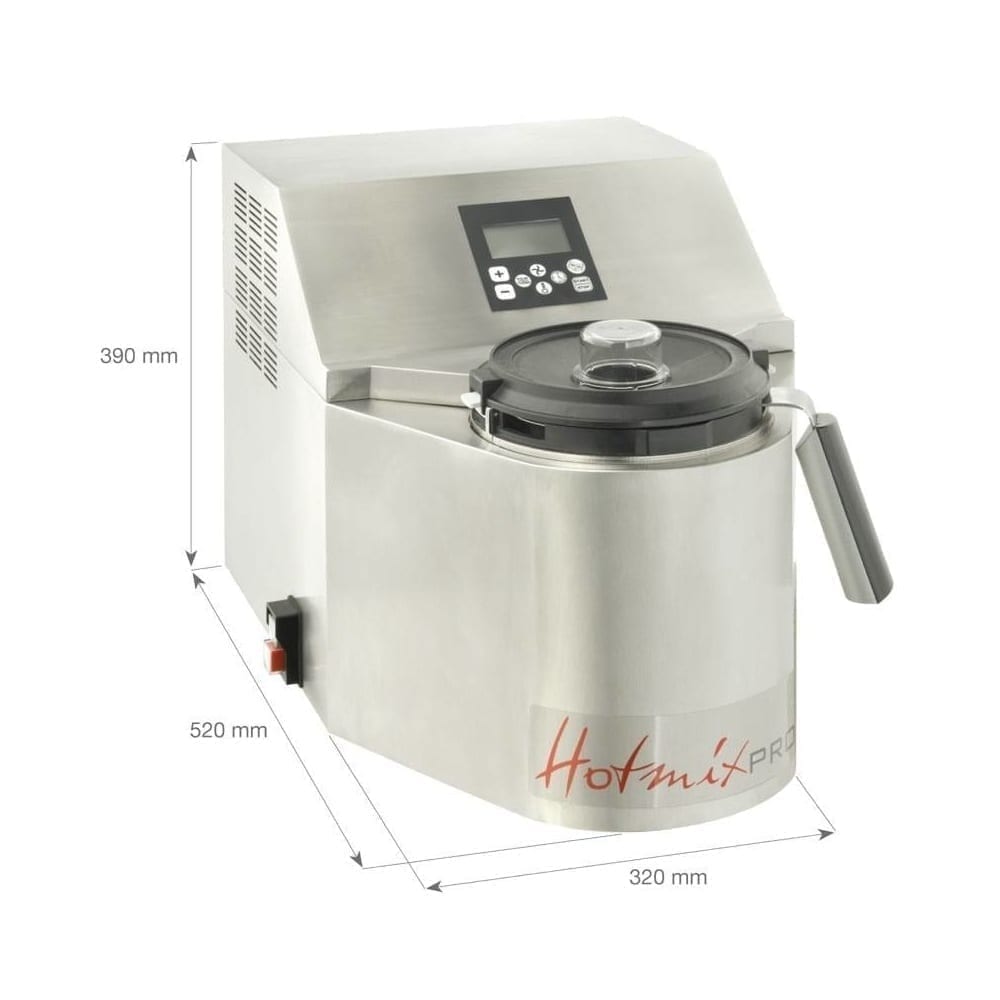 HotmixPRO Breeze:
Desde la temperatura detectada en el vaso hasta -24°C, es el primero thermal mixer especializado en el enfriamiento!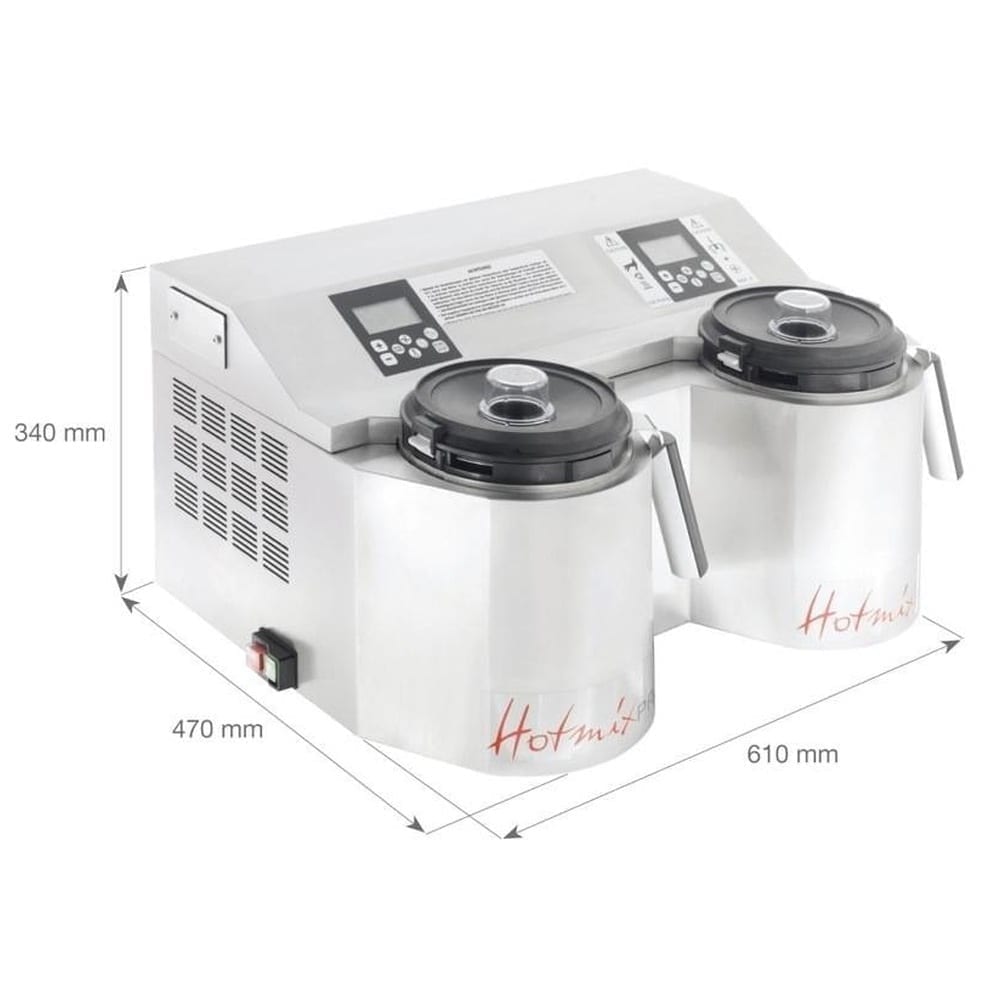 HotmixPRO Combi:
La parte izquierda tiene todas características del modelo Breeze, la derecha las del Gastro. Versátil y performante!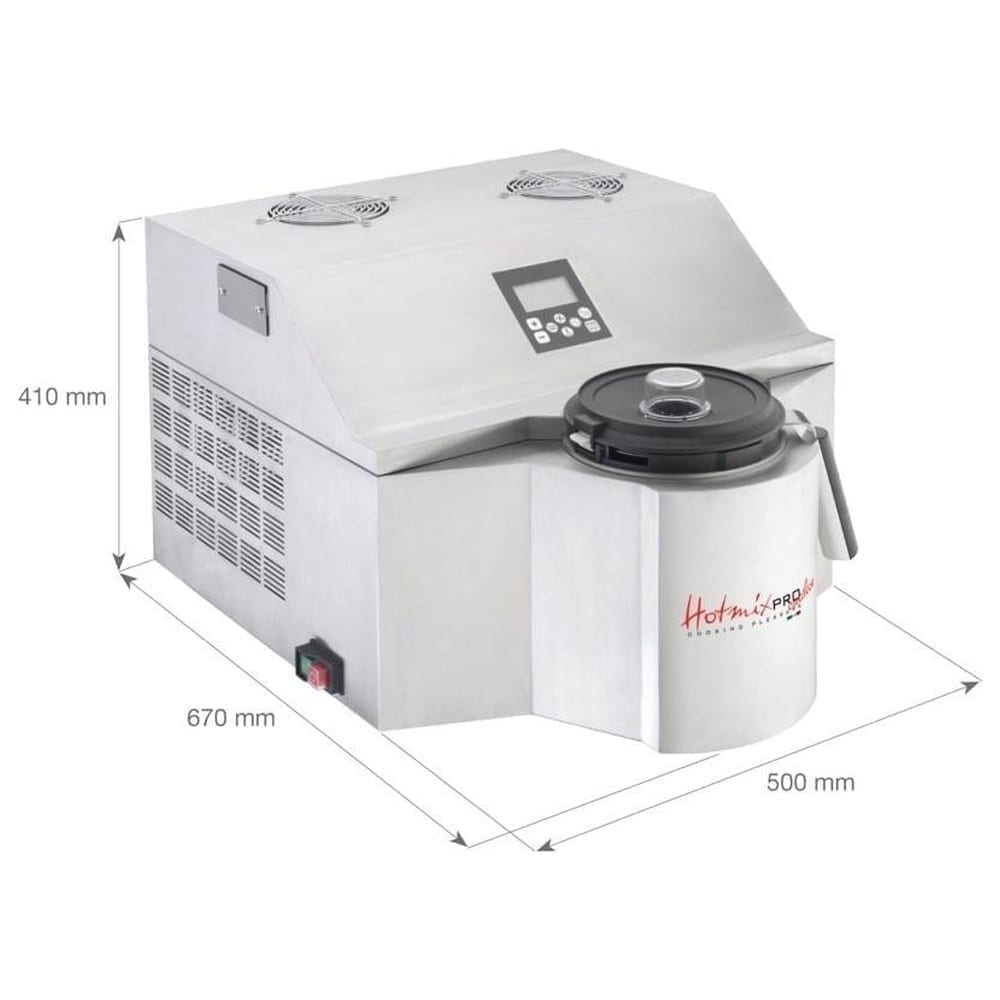 HotmixPRO Creative:
Desde -24°C hasta +190°C, la primera máquina de su categoría que puede cocinar y enfriar en el mismo vaso!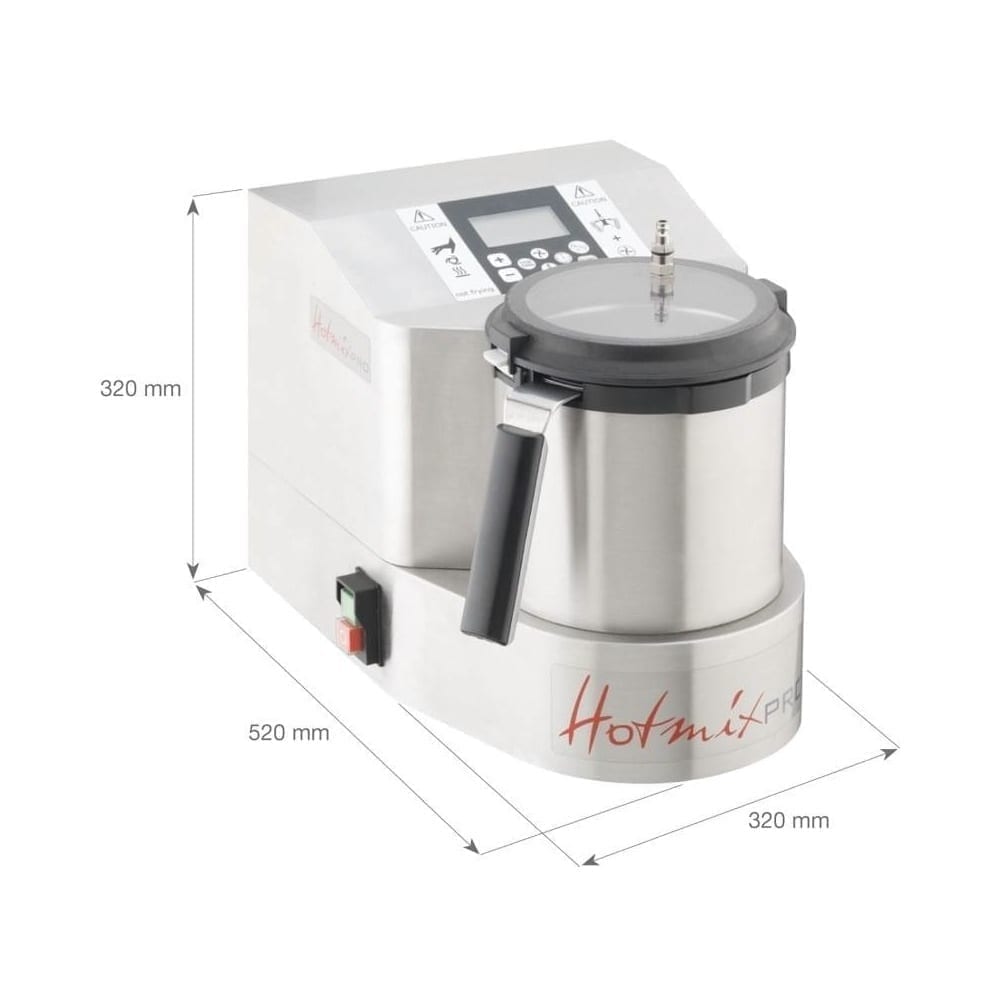 HotmixPRO Master
Desde 24°C hasta 190°C, 16'000 revoluciones, 12 horas de trabajo… y la capacidad increible de hacer el vacío durante el trabajo!