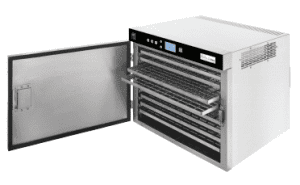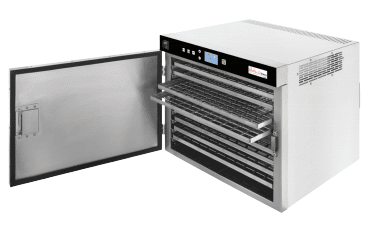 HotmixPro Dry transforms the recipes of your cafè and your kitchen in unique and inimitable creations.
Entirely made of

stainless steel

AISI 304.
Maximum capacity eight trays 530x325mm that are split in two parts by a separator/collecting drop.
Horizontal air flow run by two independent fans for a perfect and homogeneous aeration of the product.
The Air flow is adjustable between ten different speeds in relation to temperature of the chamber and to the product that must be dehydrated.
Chance to set two temperatures, which are independently controlled by two separate probes, which can also be used at the same time.
Temperature control degree by degree.
Energy savings thanks to the use of two separate zones at variable temperature.
Temperature range:

from room temperature to 90°C.

The outside of the unit is always cold thanks to the double chamber, which separates the inner part and outer one.

High resistance. Operating time up to 150 hours maximum.
Basic drying methods already stored in the unit.
Possibility to customize your own drying methods.
Chance to update the unit with new software releases.
Power supply 110V-240V.