Kitchen appliance for professional vacuum cooking
From 24°C to 190°C, 16'000 rpm, 12 hours of continuous work… and the incredible ability to make vacuum in its bowl while working!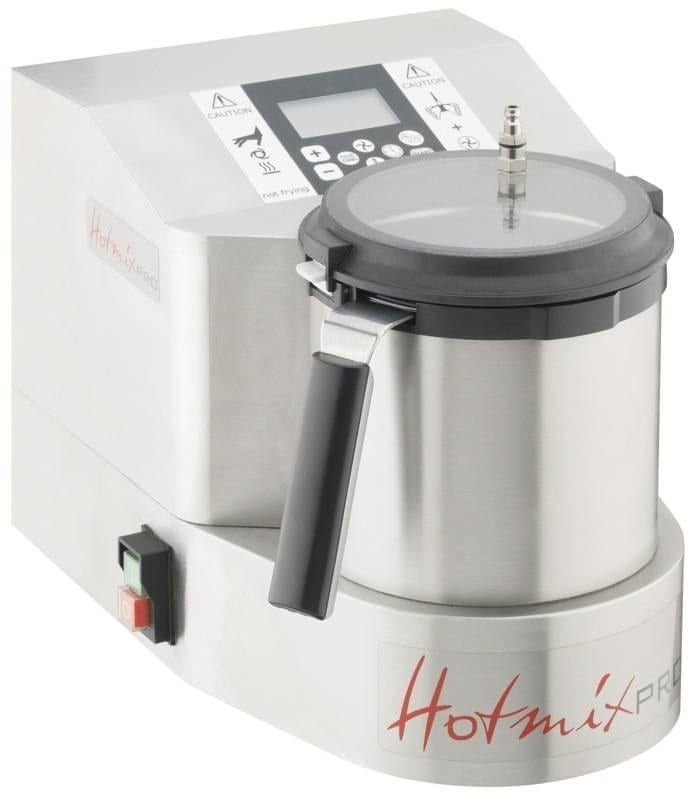 The incredible, unique feature of HotmixPRO Master is its ability to create vacuum in its bowl while working.
It has a powerful motor (1800W), capable of very high speeds (up to 16'000 rpm), and it can  cook up to 190°C (374°F)  with degree-by-degree temperature control (1°C increments).
Thanks to these features, HotmixPRO Master is suitable for almost every recipe, such as creams, jams, sauces, doughs, reductions… its high temperatures even allows caramelization of sugars!
What's more, it comes with a few revolutionary features, that will really improve your workflow.
Features such as the WT function, NEXT, and the programmable recipe memory.
On top of that, vacuum opens many new paths in your kitchen:
Vacuum cooking or chopping

can lead to amazing results! Vacuum lowers boiling temperatures, so taste and colors of your ingredients stays unaltered. It is useful in the production of sauces and all creamy products. Where there's no air there's no oxygen, where there's no oxygen here's no oxydation. Also, it guarantees a constant specific weight and the absence of aerobic bacteria (no air, no aerobic bacteria).

Vacuum reducing

leads to intensification of your recipes taste, thanks to the low temperatures. It concentrates the flavors of the ingredients with a process that does not change the colors, and the volatile aromatic components do not get lost.

Vacuum soaking

is a technique which offers amazing results. During the creation of the vacuum in the bowl, any air contained in the food will be eliminated as well.
Then, thanks to a particular connection, when stabilizing the atmospheric pressure it's possible to insert a gas or a liquid to "soak" your preparation.

Vacuum drying

is a very efficient technique to dry food, because high temperatures are not necessary. This way, the volatile, heat-sensitive aromas won't deteriorate. This technique can be used also to improve a 

"texture" – for example, when drying a meringue.
---
These helpful -and unique– characteristics introduce a new level of comfort in your kitchen: in fact, the operator's presence is not constantly required anymore. A great number of preparations can be made by simply inserting the ingredients into the bowl, selecting a recipe (either one of the 250 pre-stored or one of your own), and pressing the START button.
Thanks to the programmable memory and the perfect temperature control, HotmixPRO Master can guarantee constant, standardized, and optimal results.
You can even let your staff use it. As long as they use your recipe (and the same ingredients of course), no one will be able to see the difference. You can also share your recipes with your friends, your fellow chefs, or other restaurants of your chain.
As easy as locating the file, copying it, and sending it as an email attachment. And, thanks to the WT function, the results will be always constant, no matter the initial temperature and quantity of ingredients.
---
So, in a few words, here are the results you get with HotmixPRO Master:
You save time, being able to do something more important while the machine works
You theoretically get rid of human error during the most complex preparations
You standardize the quality of your recipes
You are less stressed and your work is lighter
---
HotmixPro Master,thanks to its many preset programs and recipes (stored in the included SD card), is ideal for:
Cutting
Beating
Mincing
Mixing
Whipping
Grinding
Emulsifying
Kneading
Pulverizing
Chlorophyll extraction
Cooking 

hot

Reducing 

hot

Browning 

hot

Steam cooking 

hot

Sous vide cooking 

hot

Stewing 

hot

Candying 

hot

Roasting 

hot

Caramelizing 

hot

Chocolate tempering 

hot
Vacuum cooking

vac

Vacuum reducing

vac

Vacuum soaking

vac

Vacuum drying

vac
Discover the Kitchen appliance for professional vacuum cooking and the full range of HotmixPRO multifunction food processor professional which includes the range of Vacuum refrigerating mixer for catering.
The made in Italy guarantee of food industry accessories designed for food companies and kitchens in Hotels, Hotels and Restaurants.
---
 Outstanding Performances!
Temperature range from 25°C to 

+190°C (374°F)

, with degree-by-degree temperature control;
Always perfect results, no matter the initial quantities and temperatures of the ingredients, thanks to the special WT function (Wait Temperature) which allows the user to start the timer only when the selected temperature is reached;
From 0 to 16'000 rpm, with 26 different speeds in between, thanks to powerful professional motors, rated 1'800W;
Capability to save your own recipes, and send them via e-mail. More than 400 pre-stored recipes on the SD card;
Set different subsequent steps of a recipe without the user intervention;
Continuous operation for up to 12 hours thanks to the TURBO AIR MOTOR SYSTEM;
Self-diagnostics information display, upload of new software programs via web;
Motor never under stress. The recipes are always completed, thanks to the dynamic system of the motor thermal protection. When the motor is too much under stress, the software automatically stops it for few seconds, while all the other operating functions are still on. Then, it starts to work again. The stop and working time may vary depending on the effective temperature of the motor at that moment.
---
Details make the difference!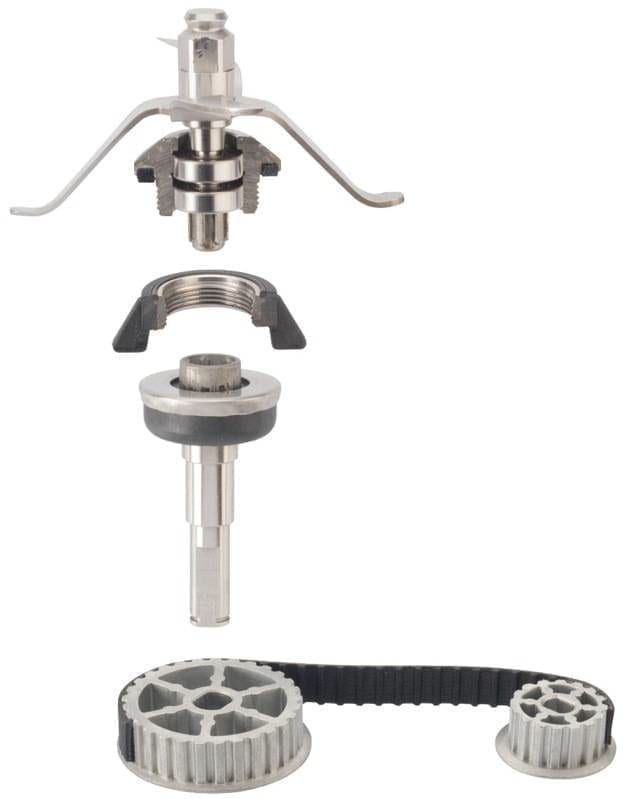 100% stainless steel body, AISI 304 grade
Blade set entirely made of stainless steel:
Blades made of a single piece for solid operations and easy cleaning.
Japanese stainless steel bearings which allow the cleaning in the dishwasher.
Transmission connections in casting steel for a long duration.
Aluminum pulleys which always guarantee the transmission of the maximum power.
---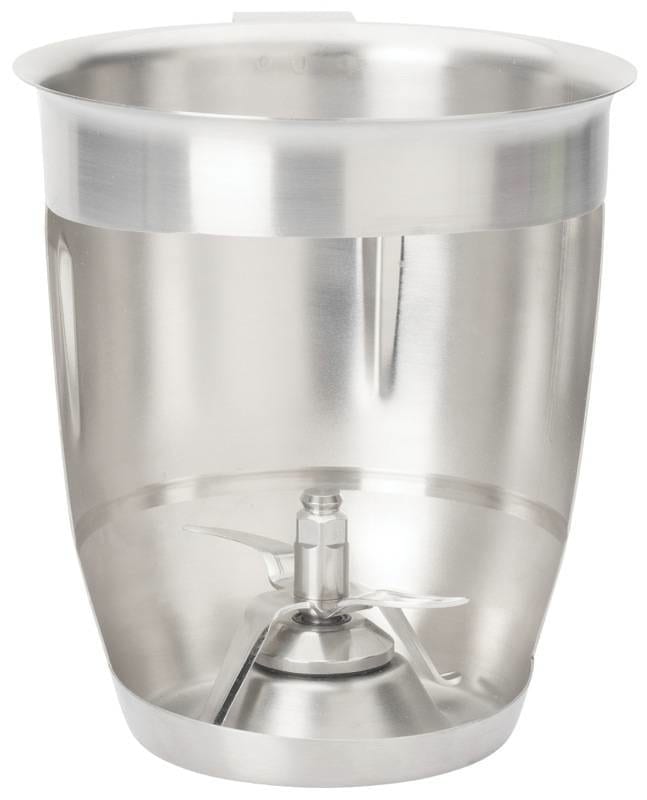 Easy to clean
All parts that are in contact with food can be easily dismounted and cleaned in the dishwasher.
Flexible
The special conic shape of the bowls allows easy processing of the ingredients, even with small quantities.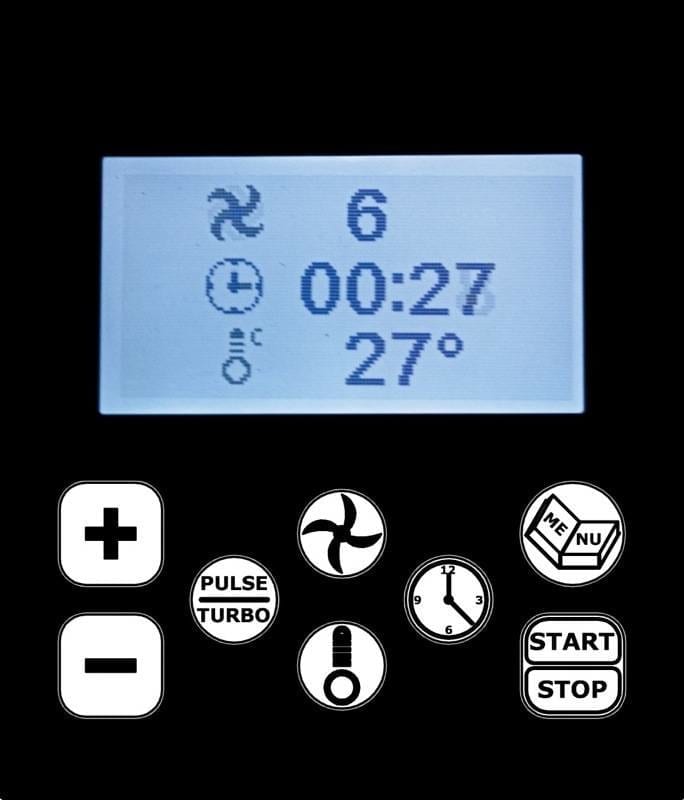 Intuitive symbols
Easy to use from the very beginning, thanks to the simple and intuitive symbols.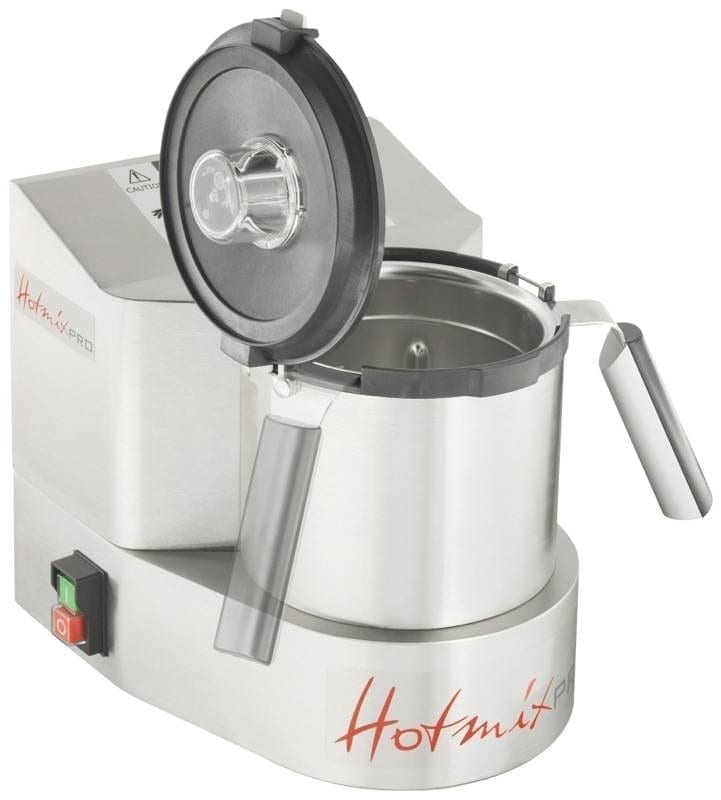 Customizable
the user can store new recipes, with up to 16 subsequent steps each, so that they will be always available, and repeatable without human error. Not to mention the pre-stored recipes (up to 400).
What's more, the bowl and the lid are easily placed either on the left or on the right side... perfect for the left-handed users.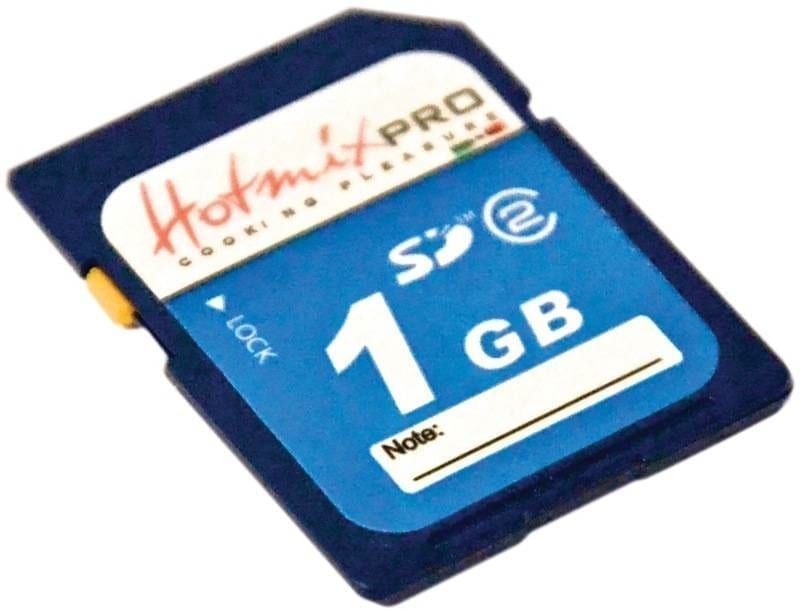 ---
Simple and Effective!
The standout, unique feature of the HotmixPRO, is its ability to process any kind of food, such as creams, sauces, and jams, eliminating the many intermediate steps necessary when preparing recipes that require constant attention and repeated intervention to ensure a successful outcome.
All the ingredients can be put into the bowl, and the expected result can be achieved easily, thanks to the ultra-accurate temperature control. HotmixPRO will mix the contents of the bowl steadily and uniformly, at the selected speed and temperature, so that a perfect preparation is assured every time.
This ensures that preparations proceed without any waste of time, and guarantees that quality will never fall below expectations.
Using HotmixPRO, even the most demanding professionals will be able to maximize the quality of every single delicacy, thanks to the precision controls: the best and most popular recipes can be standardized, memorized and then reproduced any time, any day and by any member of the staff.
HotmixPRO will allow foodservice professionals to take care of all the jobs that were difficult to get done before, due to shortage of time and staff.
No more need to be everywhere at once!
After creating a new recipe, it can be stored in the SD card. Or, a recipe can be simply choosen from the many pre-stored. There will be more free time to focus on other duties - things that seemed complicated and sometimes impossible before, but will be simpler and quicker in future.
In short, the foodservice offering can be enhanced, and customer satisfaction increased.
---
---
Technical Specifications
Max Bowl Capacity
2lts
RPM min / max
0 - 16'000 rpm
Speeds
26
Max continue work hours
12
Temperature Range
24°C to 190°C
Final Vacuum (absolute mbar)
15 - Vacuum ≃ 98% - Boiling water ≃ 15°C
Power - Frequency
220V / 240V
50Hz
Heating Power
1'500W
Motor Power
1'800W
"turbo air motor system"
Pump Power
100W
Max Total Power
3'400W
SD card
YES
Body
Stainless Steel
Net Weight
16Kg
Accessories
Blades, mixing paddle, lid with measuring cup, spatula, whisking paddle, sous-vide support
---
Take a look at the HotmixPRO Range!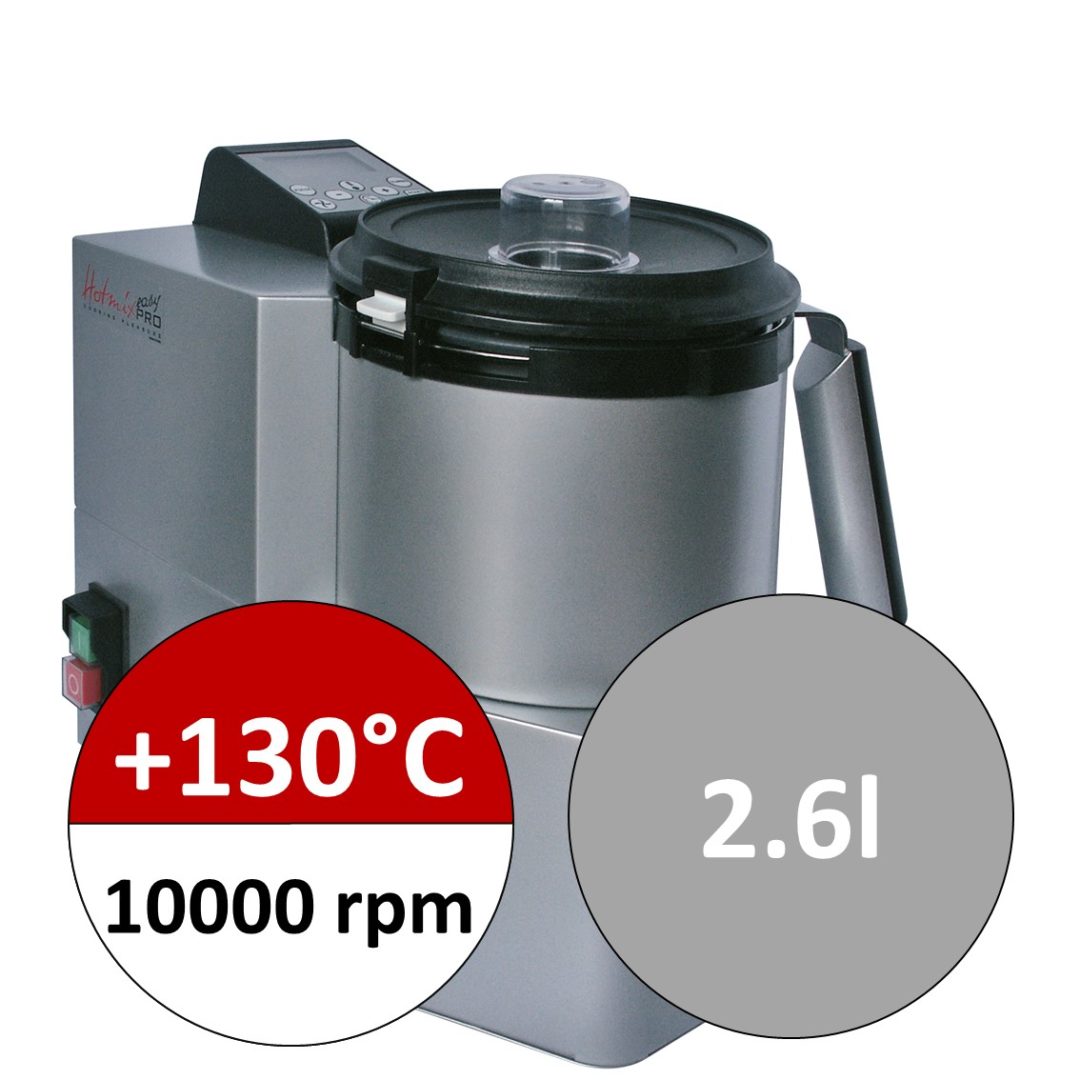 HotmixPRO Easy:
from 24°C to 130°C, painted steel body, up to 10'050 rpm. Your entry-level companion.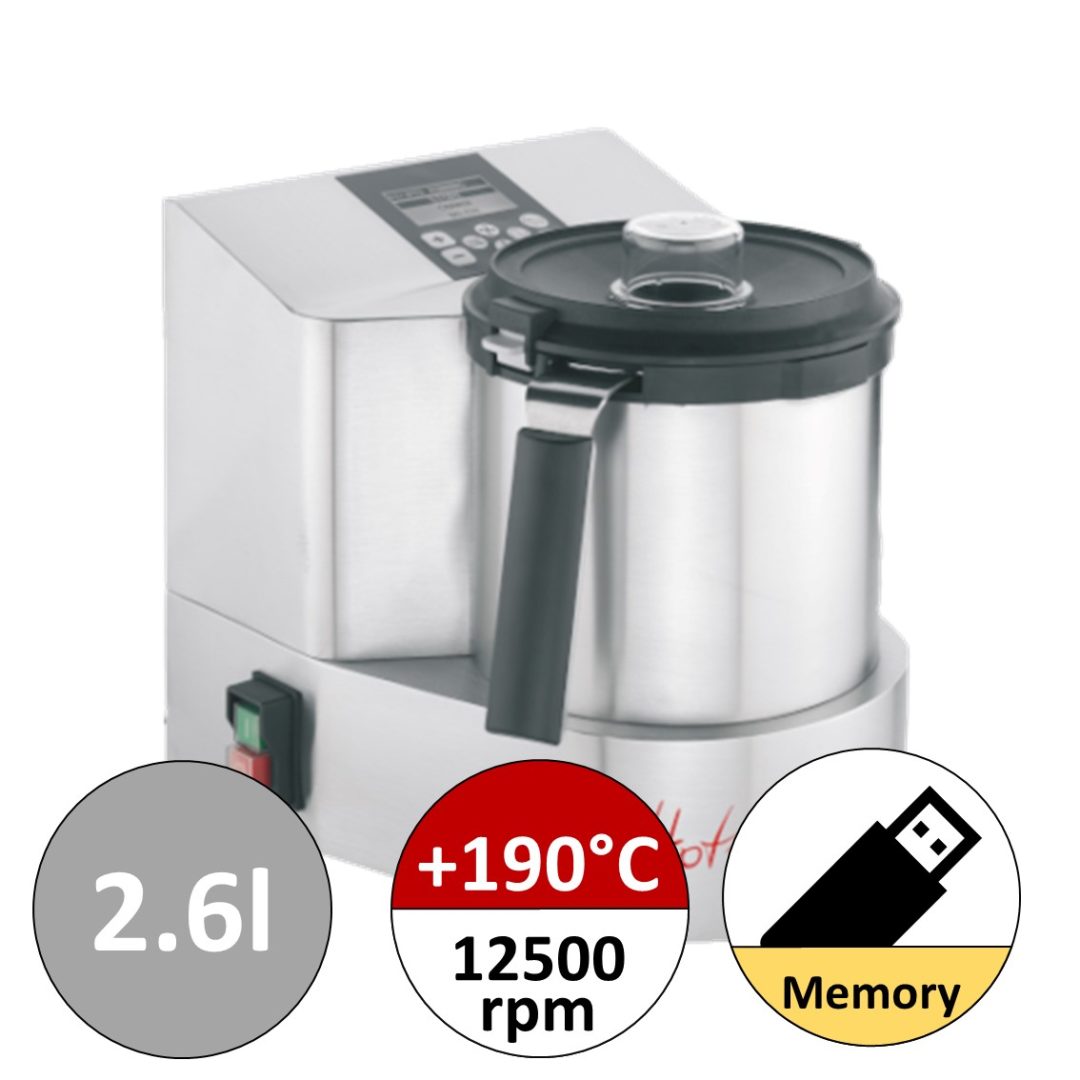 HotmixPRO Gastro:
from 24°C to 190°C, stainless steel body, up to 12'500 rpm, recipe memory and more!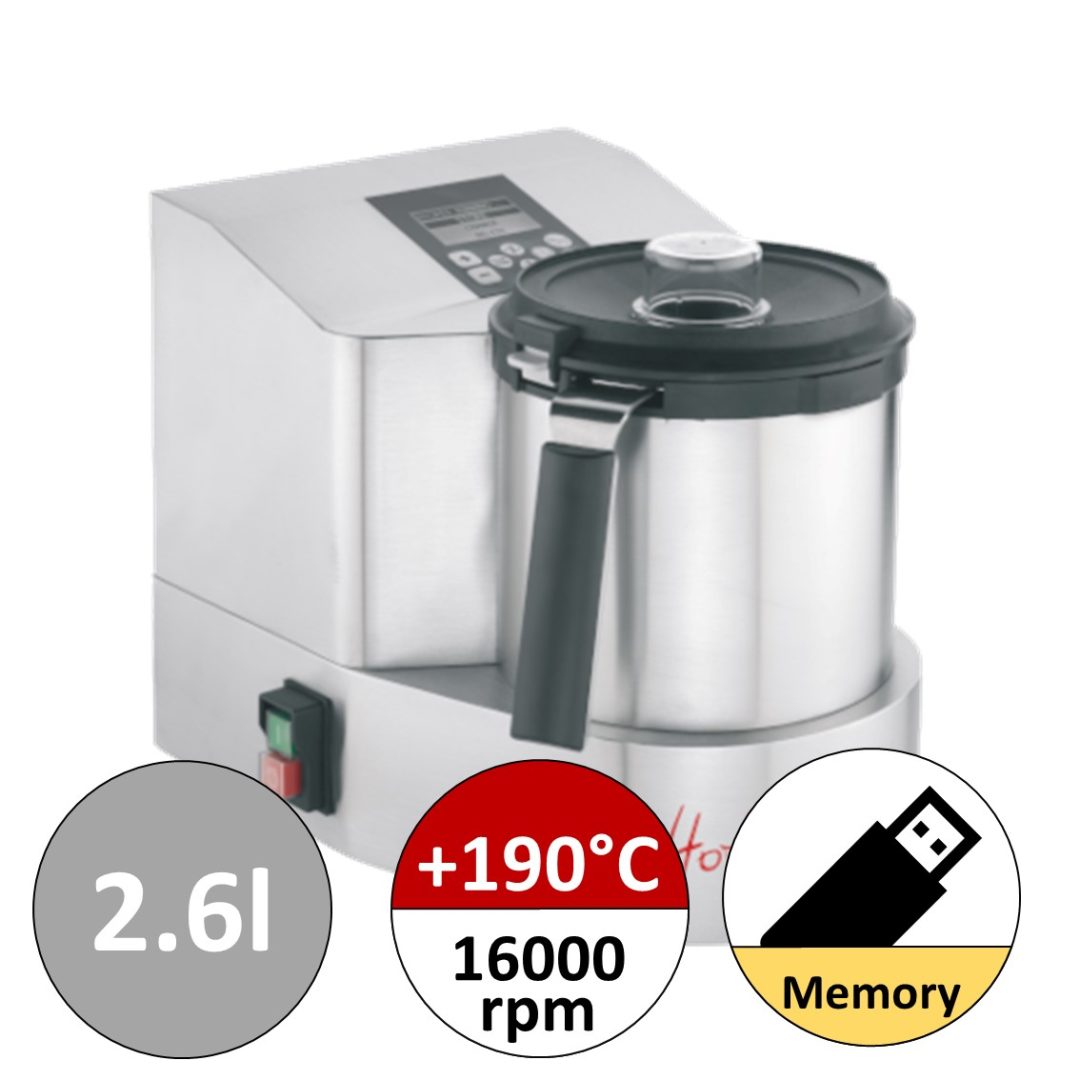 HotmixPRO Gastro X:
from 24°C to 190°C, up to 16'000 rpm, up to 12 hours of work… powerful and tireless!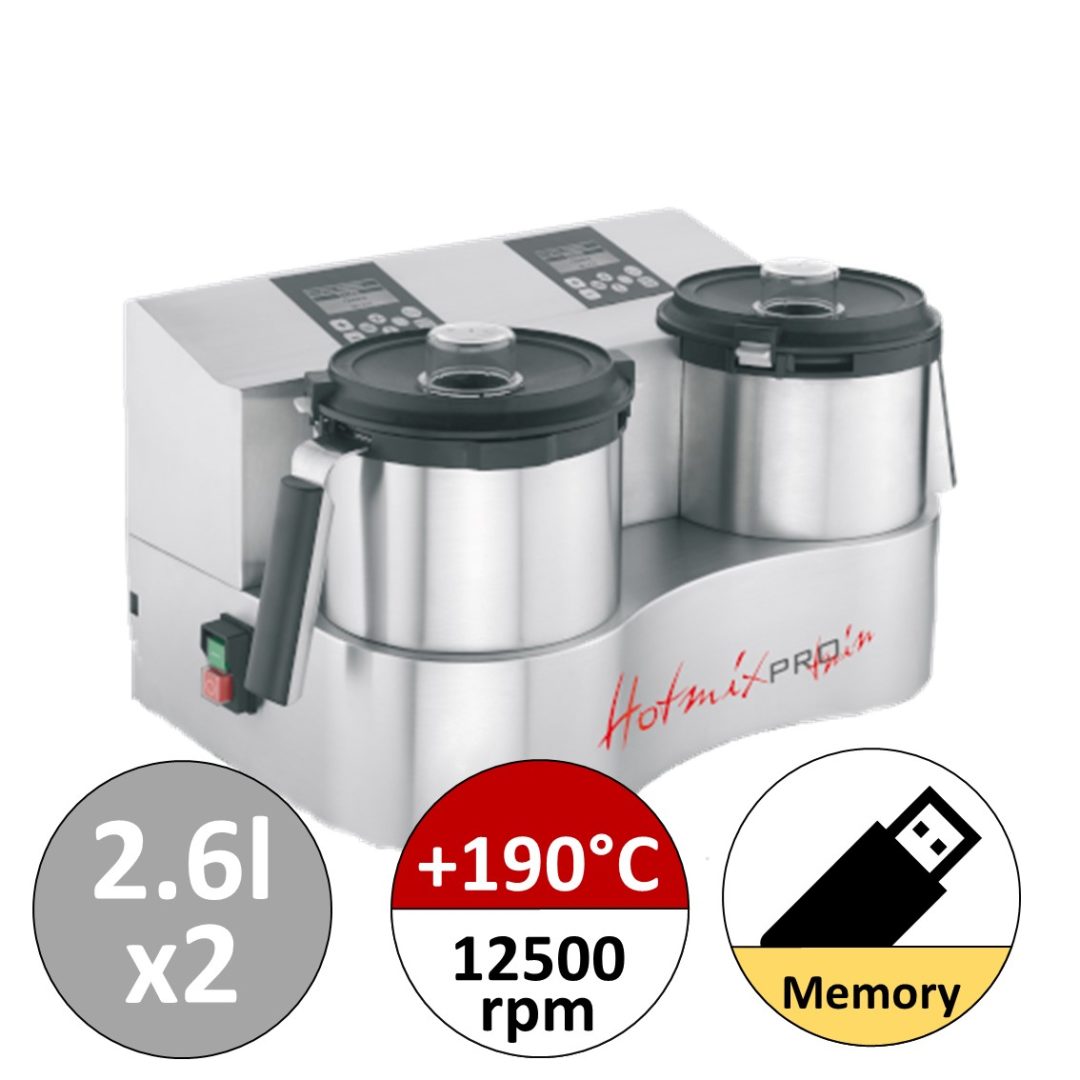 HotmixPRO Twin:
from 24°C to 190°C, up to 12'500 rpm, and double capacity, with its two independent bowls!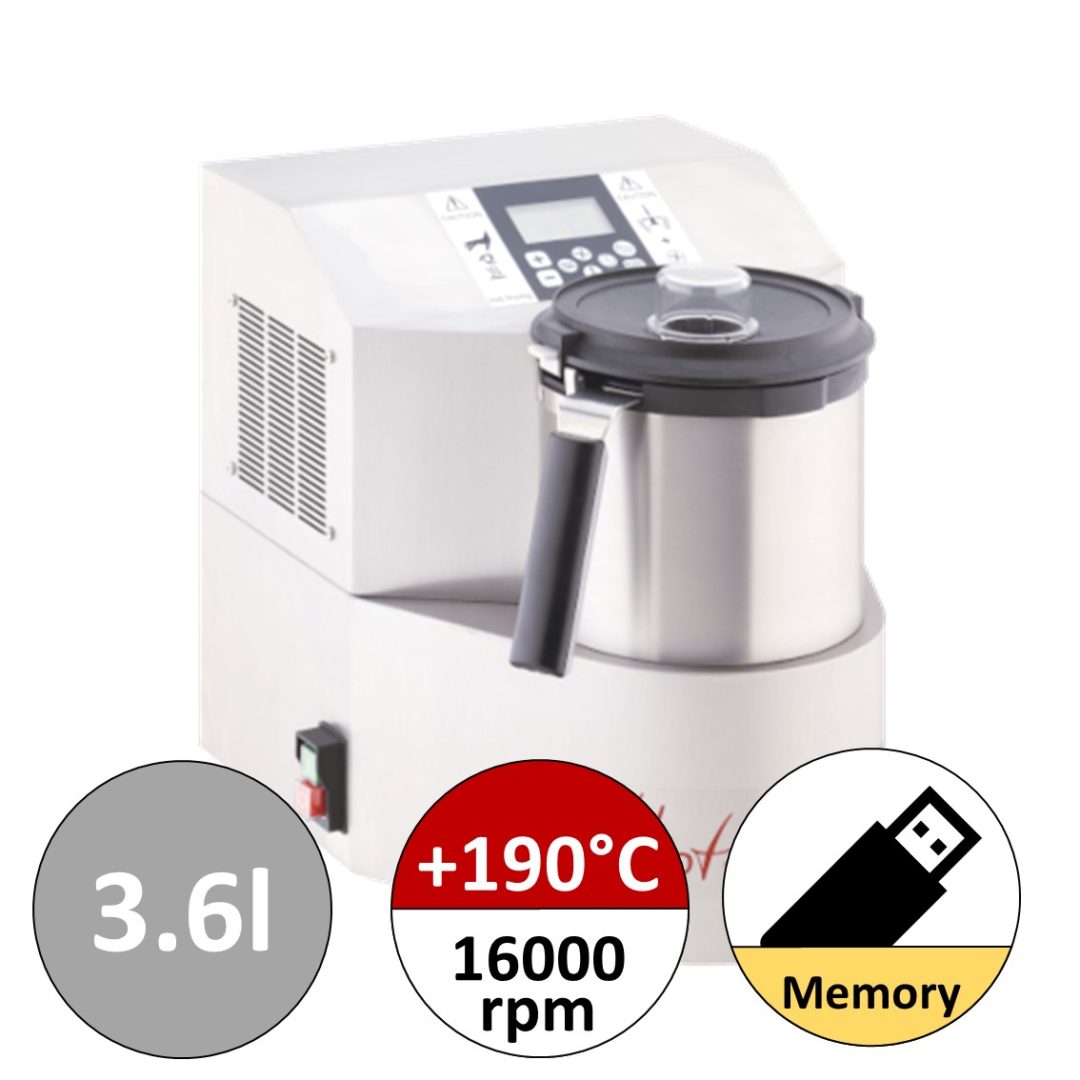 HotmixPRO Gastro XL:
from 24°C to 190°C, up to 16'000 rpm, up to 12 hours of work… and improved 3-lts capacity!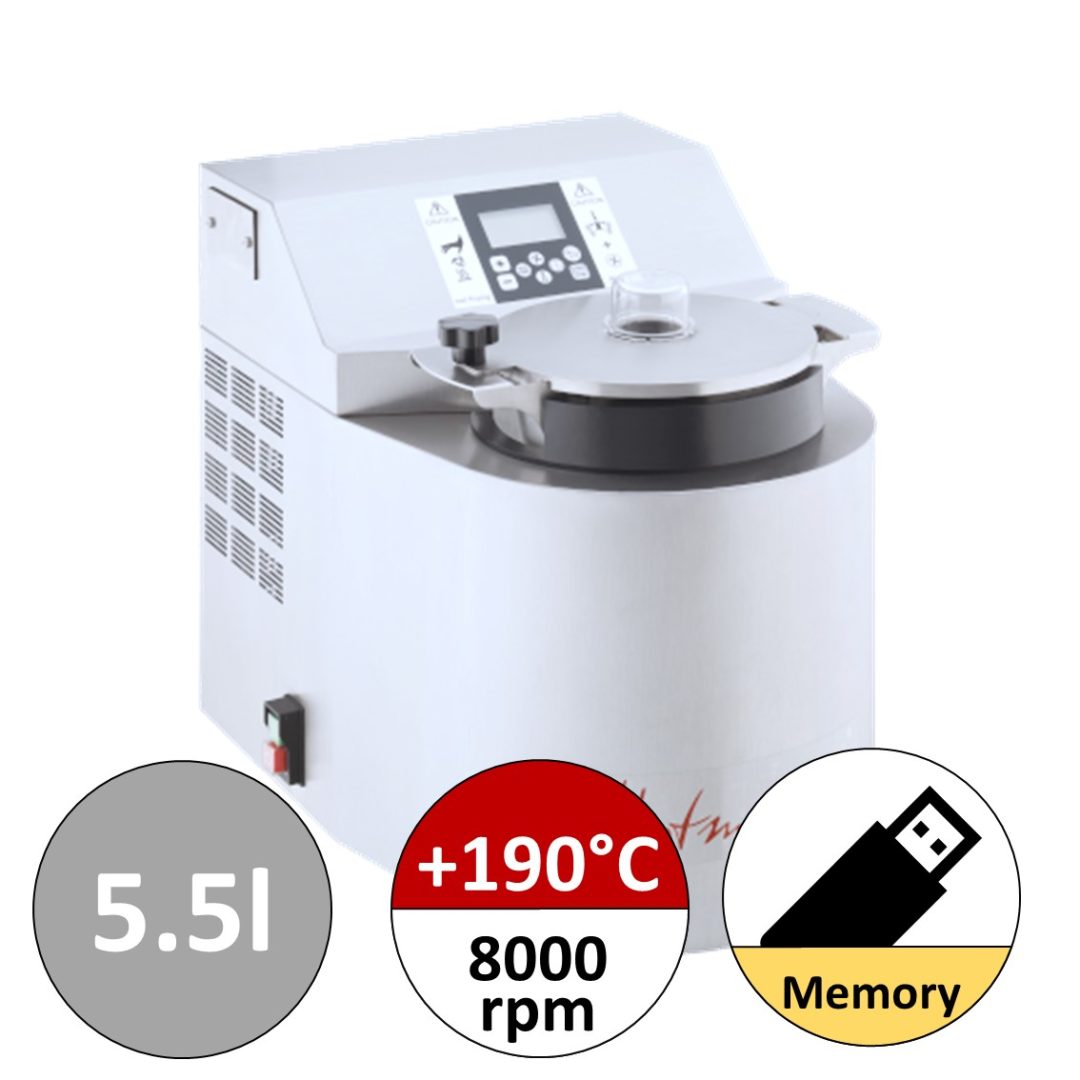 HotmixPRO 5 STARS:
from 24°C to 190°C, stainless steel body, and 5 lts capacity, ideal for the biggest restaurants!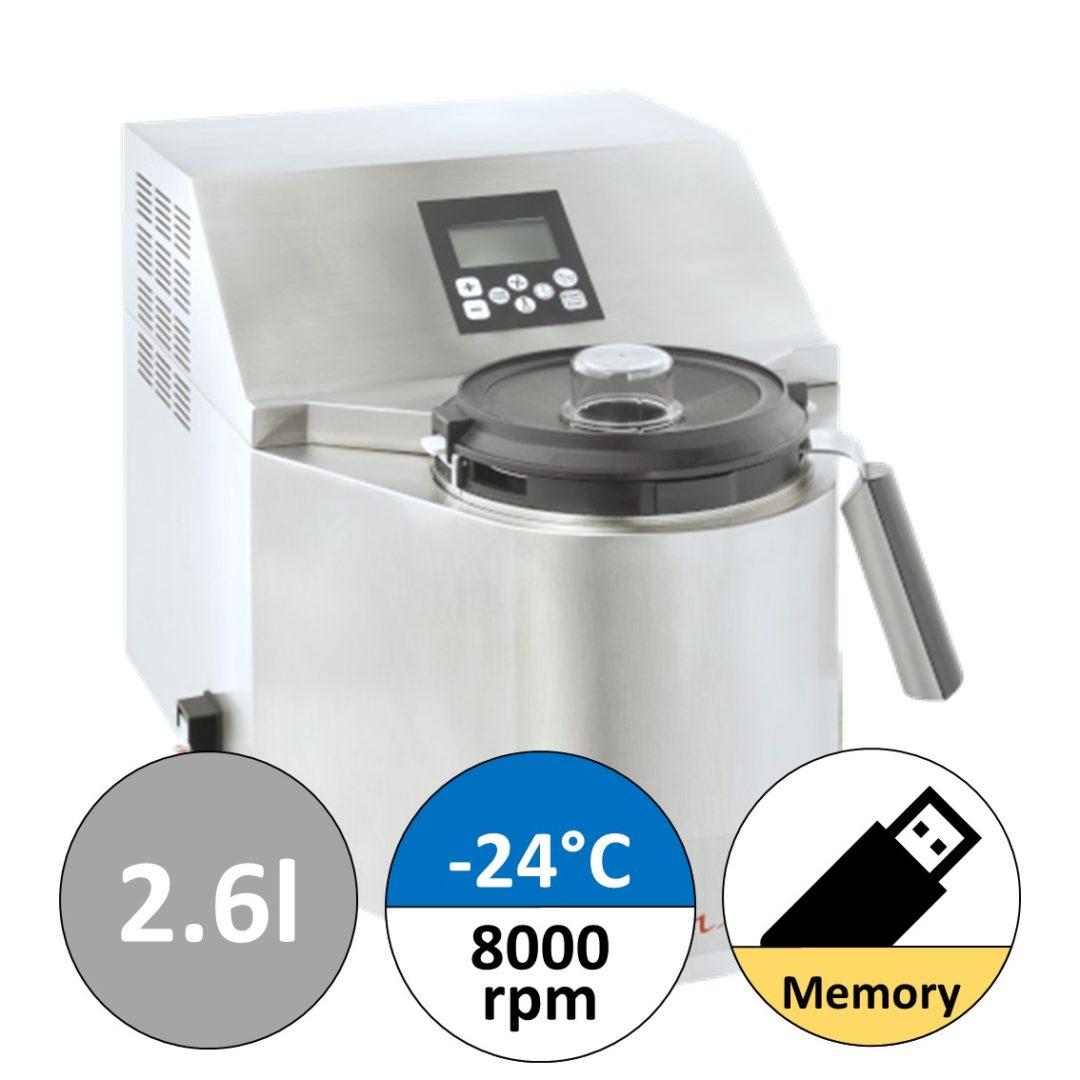 HotmixPRO Breeze:
from -24°C to room temperature, it's the first thermal mixer specialized in chilling!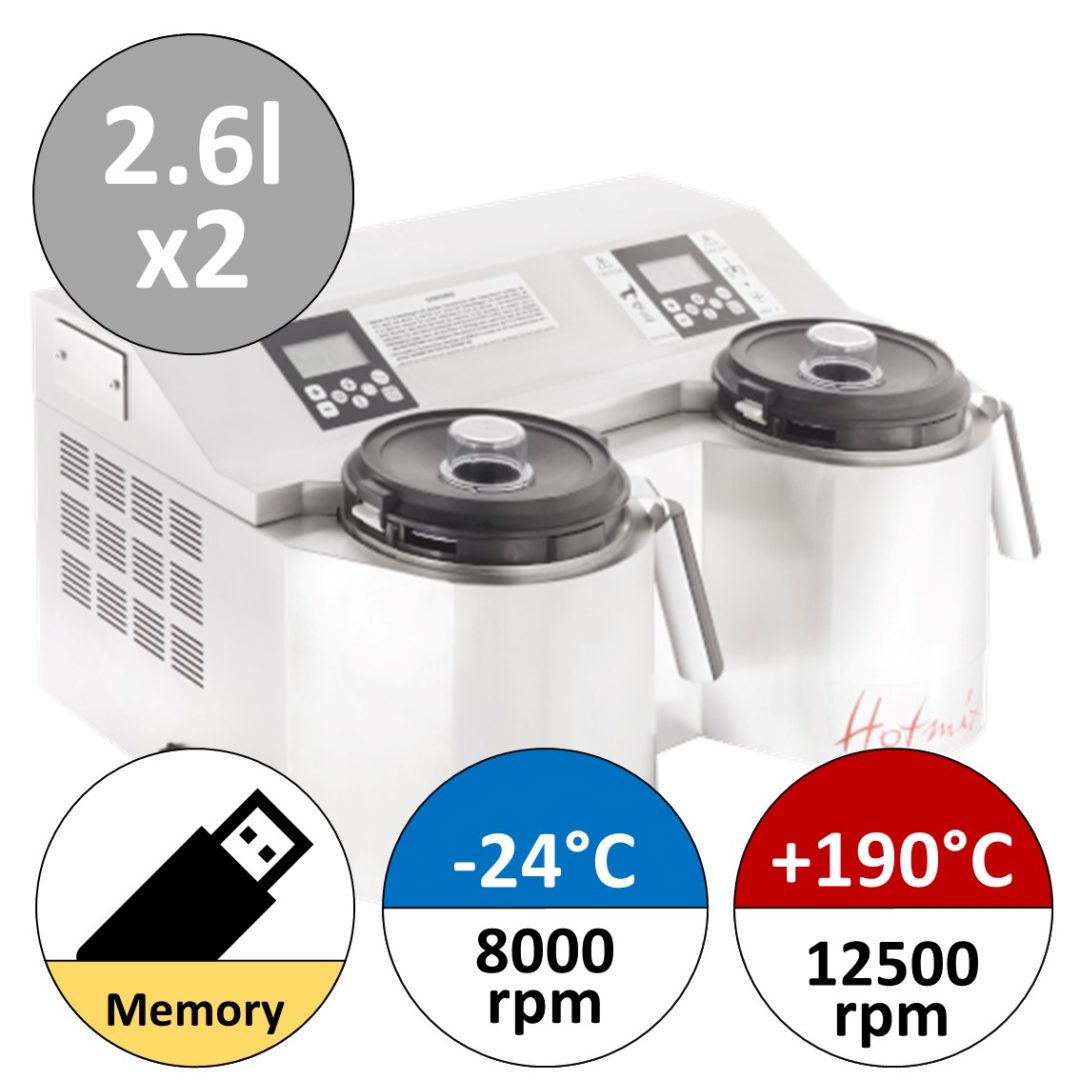 HotmixPRO Combi:
on one side, it's like a Gastro; on the other, like a Breeze – versatile and performant!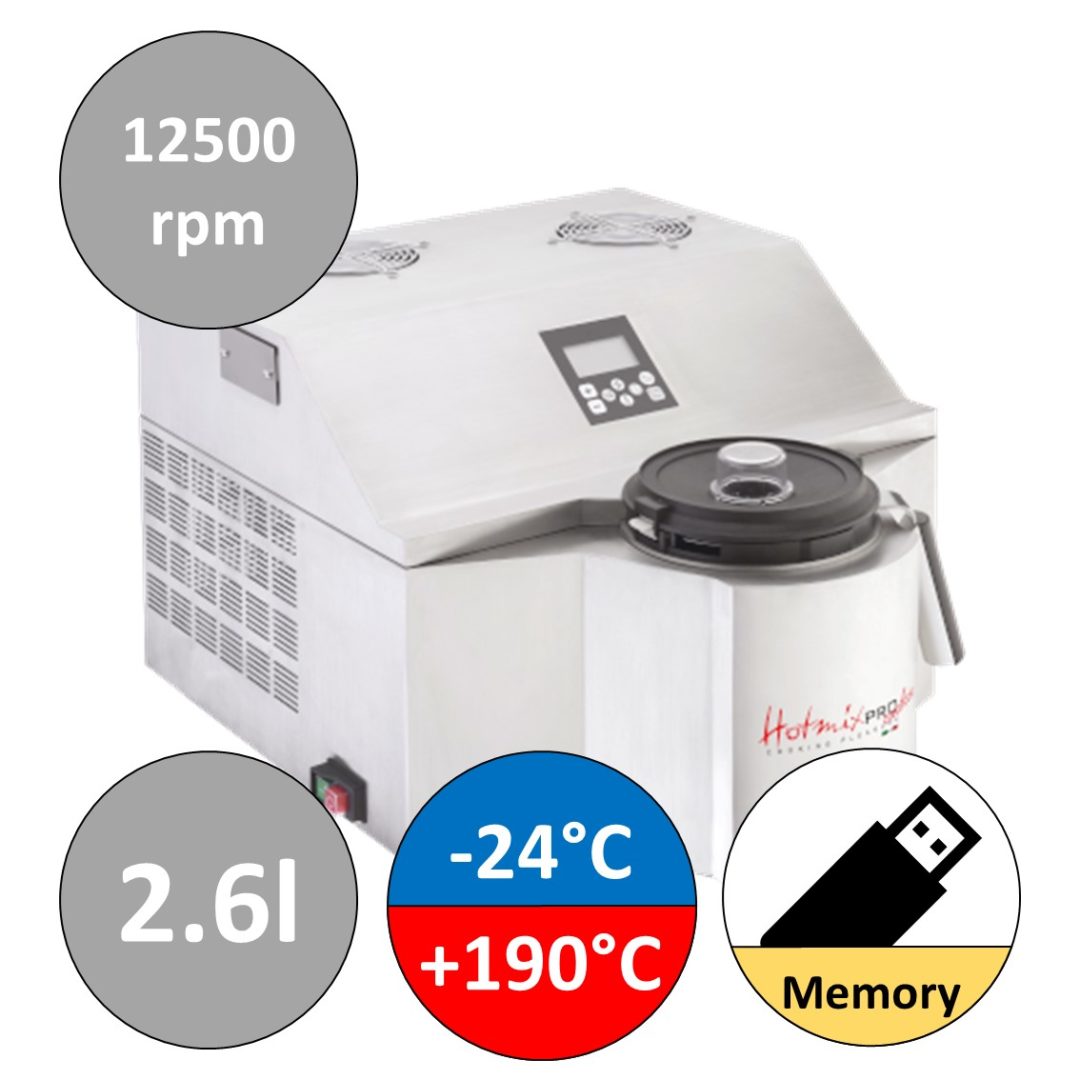 HotmixPRO Creative:
from -24°C to +190°C, it's the first appliance of its category able to chill and cook in the same bowl!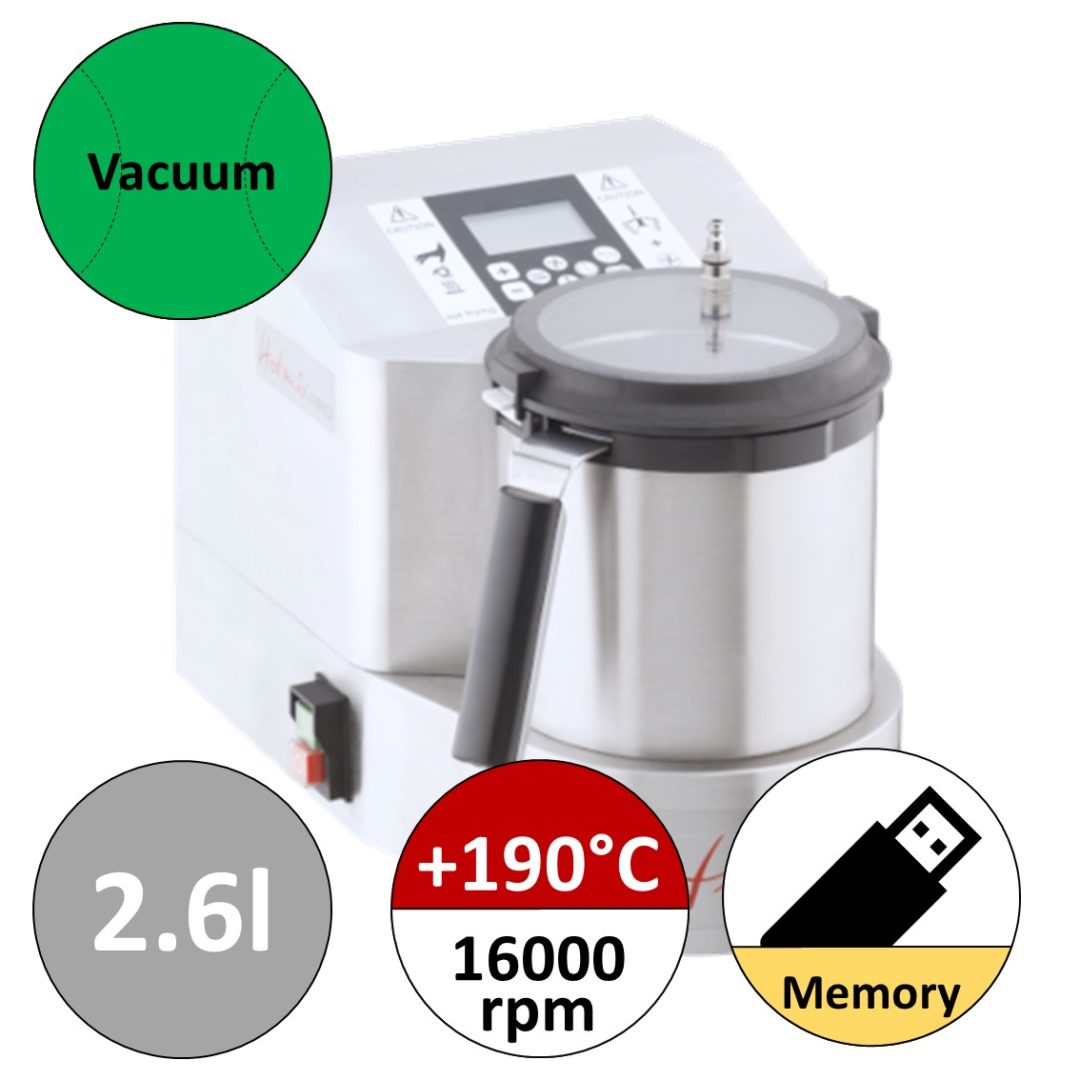 HotmixPRO Master
from 24°C to 190°C, 16'000 rpm, 12 hours of continuous work… and the incredible ability to make vacuum in its bowl while working!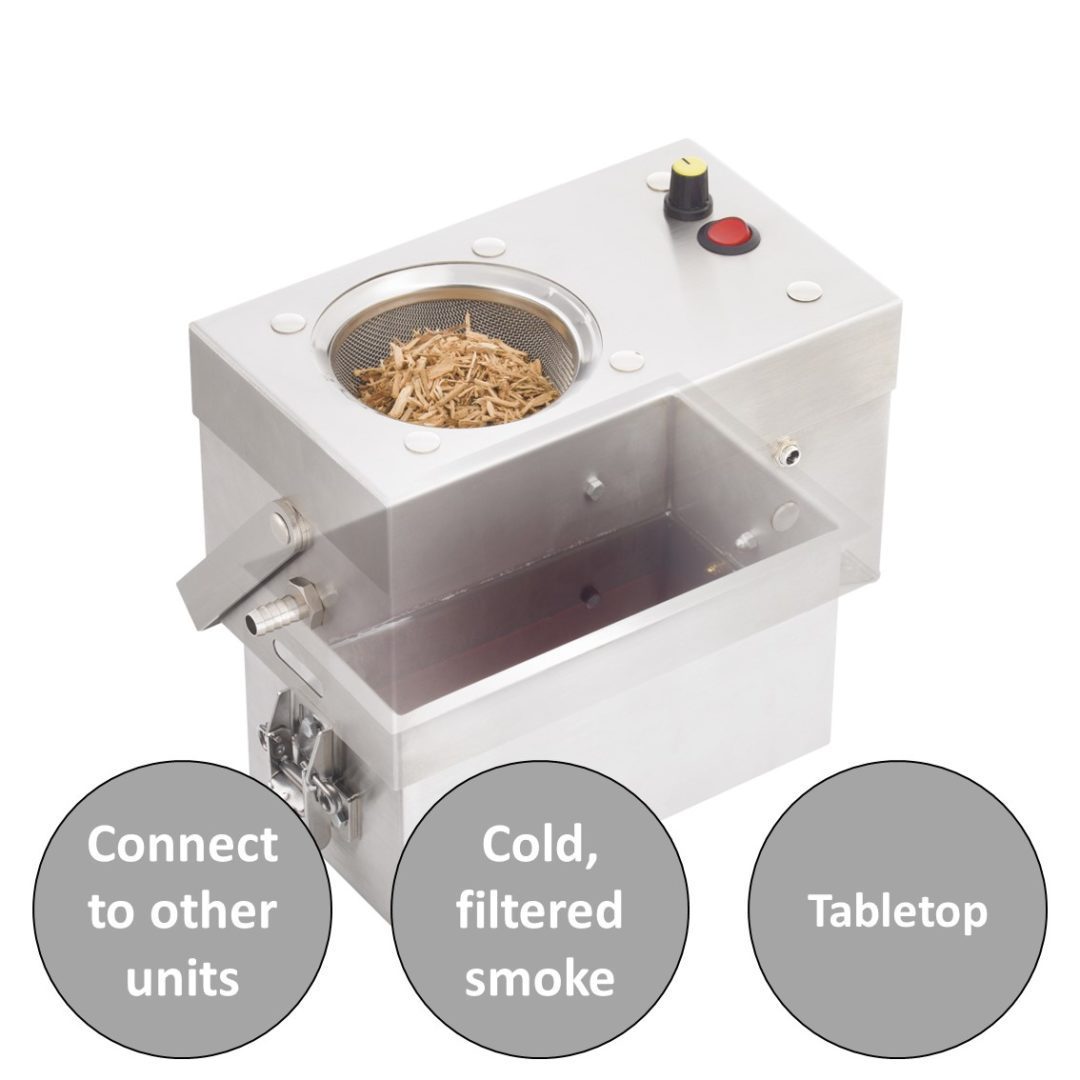 HotmixPRO Smoke
A professional cold smoker, able to run the smoke through liquids, and compatible with every other HotmixPRO unit.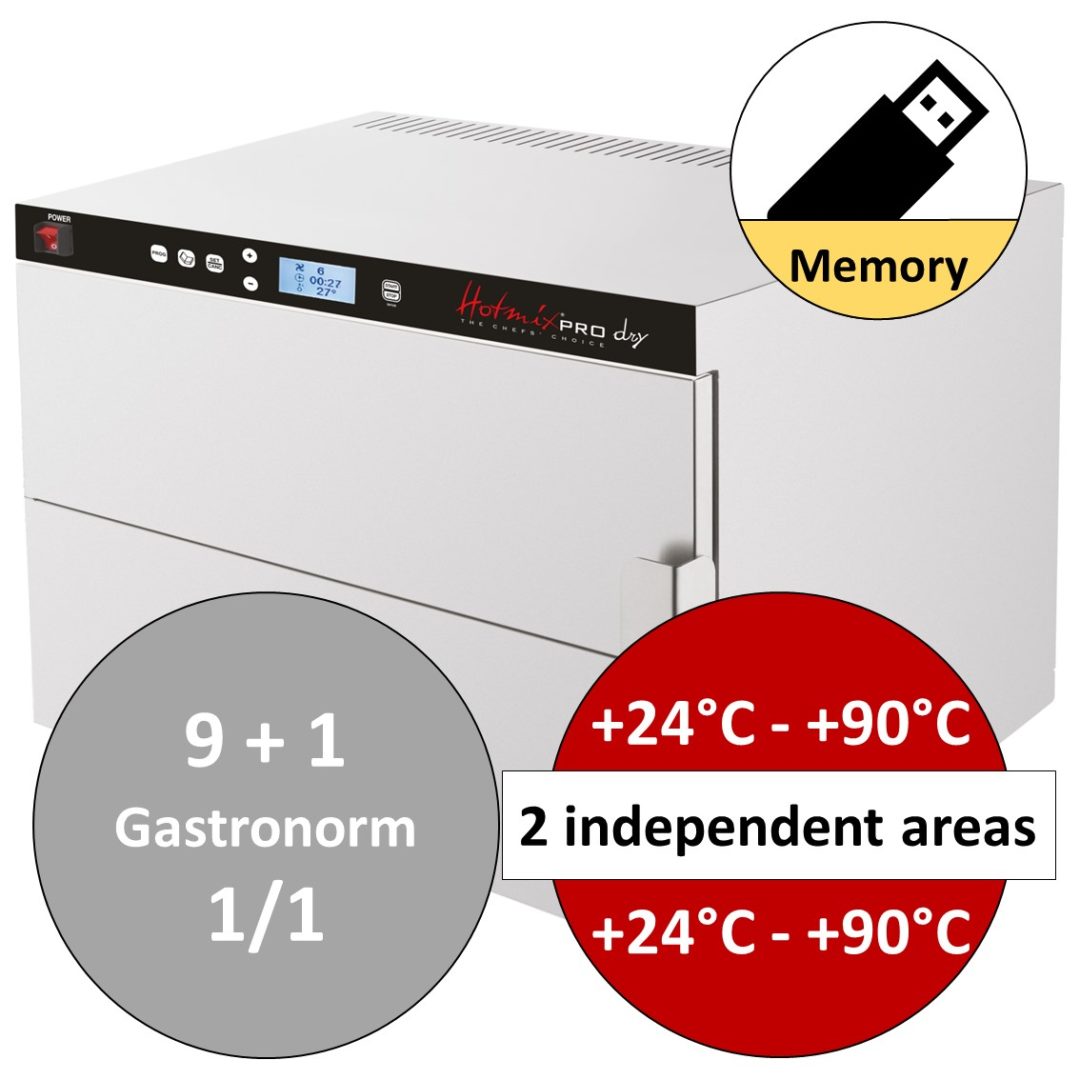 HotmixPRO Dry
Entirely in stainless steel, with 2 separate areas, recipes, and perfect temperature control: this new tabletop dehydrator will really surprise you!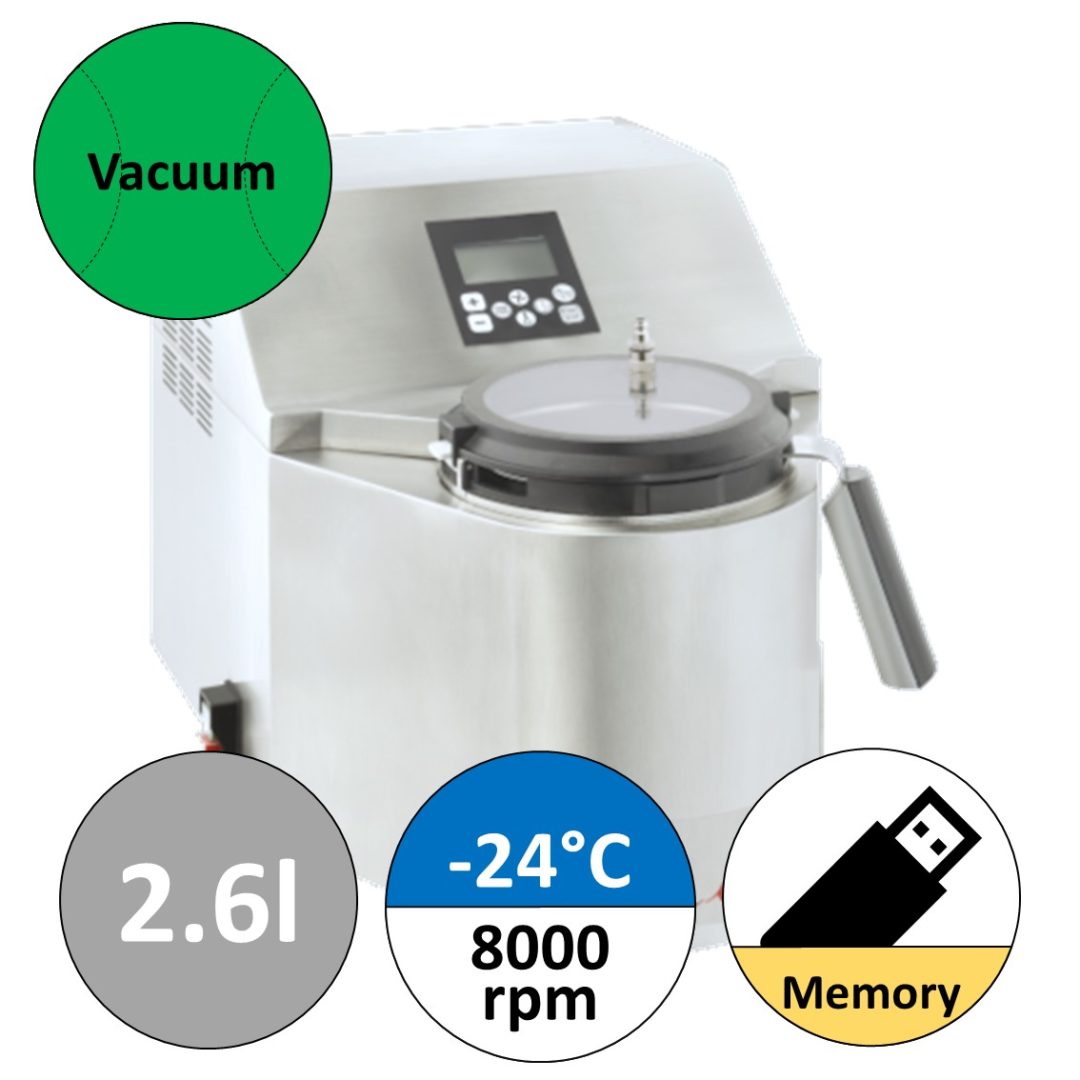 HotmixPRO Master Breeze:
quickly cool down to -24°C while creating vacuum into the bowl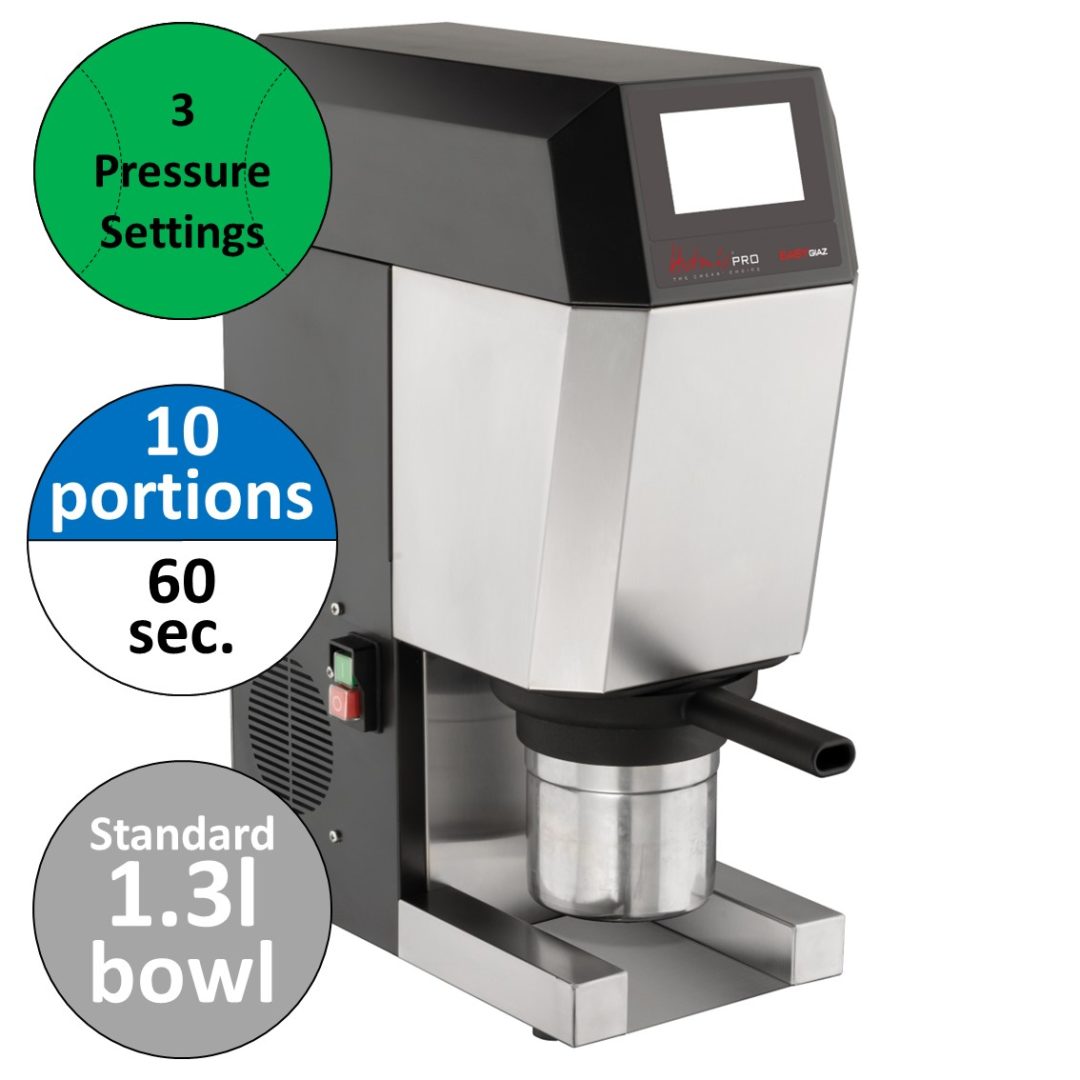 HotmixPRO Giaz & Easy Giaz:
make up to 10 portions of instant ice cream in 60 seconds, without any waste and with full control over the results
CHEF MASSIMO BOTTURA
"HotmixPRO is an incredible machine!"

"In order to maintain our high standards, we need reliable cooperators and suppliers."

CHEF LUCA MARCHINI
"HotmixPRO has become a key tool in our kitchen.
It takes away stress and allows us to be in control more easily.
The ability to use the recipe system to make any recipe perfectly repeatable (by anyone in the kitchen) is very appreciated."


CHEF EMILIO BARBIERI
"HotmixPRO is very innovative, it allows you to forget about it...
You can do something else and the machine will work correctly and won't spoil any recipe. So it's become very important in our workflow. [...] And you also have less things to wash."