All in one food cutter and cooker
From 24°C to 190°C, up to 12,500 rpm, and double capacity with its two independent tanks!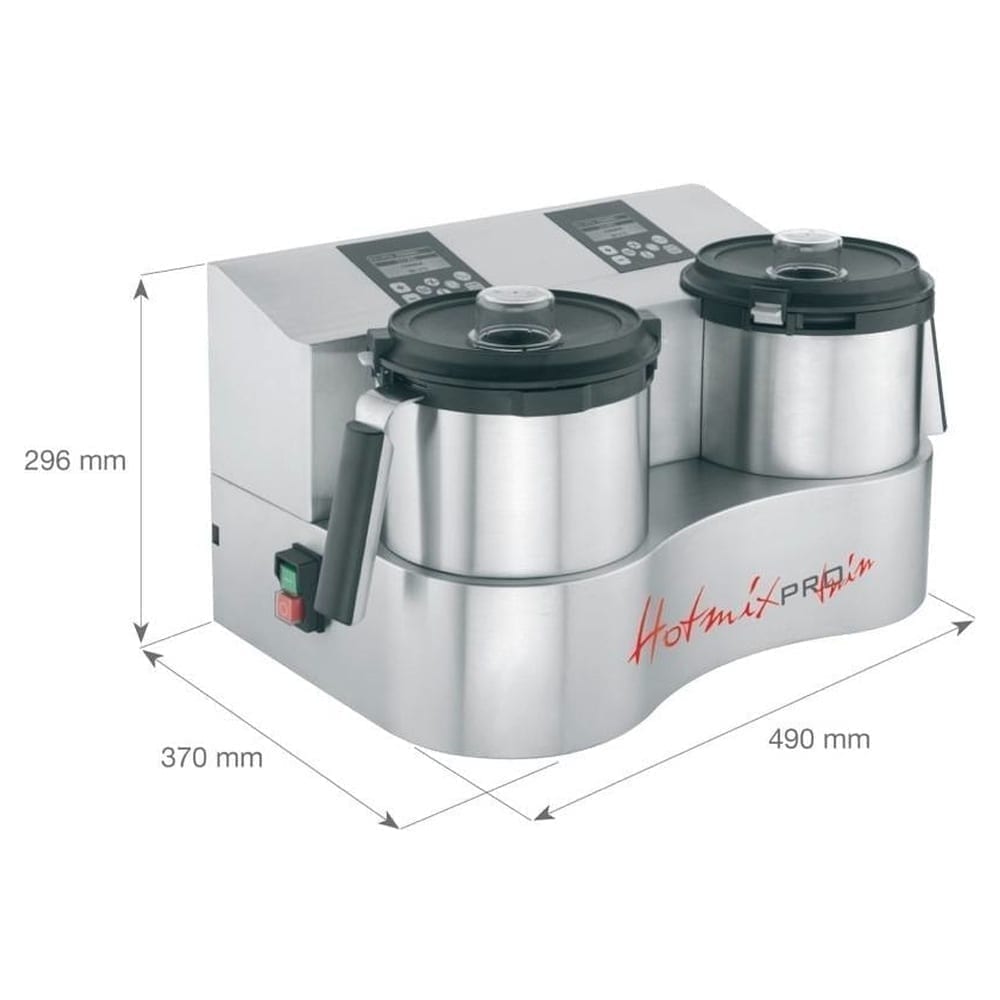 You may feel that a single 2-litre machine is not enough or you may simply need two separate machines.
Anyway, this model is a good choice for you!
HotmixPRO Twin is, in its very essence, a double HotmixPRO Gastro.
The two bowls are completely independent: separate bowls, separate SD cards, separate software… this means you can work on 4 litres of content or 2 different recipes at the same time!
Thanks to the easy reprogramming of the entire HotmixPRO range, you can even set the two sides in two different languages.
Each side is equipped with a powerful motor (1500W), capable of very high speeds (up to 12,500 rpm), can bake up to 190°C (374°F) with degree-by-degree temperature control (1°C increments). 

Thanks to these characteristics, HotmixPRO Twin is suitable for almost any recipe: such as creams, jams, sauces, doughs, reductions… its high temperatures even allow caramelisation of sugars!

Moreover, it comes with some revolutionary features that will really improve your workflow.
Features such as function WT,NEXT, andprogrammable recipe memory.
---
These useful – and unique – features introduce a new level of comfort into your kitchen: the presence of an operator is no longer constantly required. You can carry out a large number of preparations by simply placing the ingredients in the bowl, selecting a recipe (from the 250 pre-stored ones or one of your own) and pressing the START button.
Thanks to the programmable memory and perfect temperature control,
You can also let your staff use it . As long as they use your recipe (and the same ingredients, of course), no one will be able to see the difference. You can also share your recipes
As easy as locating the file, copying it and sending it as an e-mail attachment. And, thanks to the WT function, results will always be consistent, regardless of the initial temperature and quantity of ingredients.
---
here are the results you can get whit a

ll in one food cutter and cooker

HotmixPRO Twin:
Risparmi tempo

Te teoricamente

Voi

Sei meno stressato e
---
HotmixPro Twin, with its numerous preset programmes and recipes (stored on the included SD card), is ideal for:
chopping
mixing
whipping
pulverising
kneading
homogenising
liquefaction
beating
Clarify

hot

Browning

hot

Cooking

hot

Roasting

hot

Pasteurising

hot

Reduce

hot

Tempering chocolate 

hot

Vacuum cooking

hot

and more…
Discover the full range of HotmixPRO professional multifunction food processor, the made-in-Italy guarantee of accessories for the kitchen, restaurant, and food industry.
---
 Outstanding Performances!
Temperature range from 25°C 

up to 190°C (374°F)

, with degree-by-degree temperature control;
Always perfect results, no matter the initial quantities and temperatures of the ingredients, thanks to the special WT function (Wait Temperature) which allows the user to start the timer only when the selected temperature is reached;
From 0 to 16.000 rpm, with 26 different speeds in between, thanks to two powerful, professional motors, rated 1.500W;
Capability to save your own recipes, and send them via e-mail. More than 250 pre-stored recipes on the SD card;
Set different subsequent steps of a recipe without the user intervention;
Self-diagnostics information display, upload of new software programs via web;
Engine never under strain. Recipes are always complete, thanks to the dynamic engine thermal protection system. When the motor is overstressed, the software automatically stops it for a few seconds, while all other operating functions are still on. Then, it starts working again. The stopping and operating time can vary depending on the actual temperature of the motor at that time.
---
[tipo di contenuto="hmpro_snippet" name="details-make-the-difference"]
[tipo di contenuto="hmpro_snippet" name="simple-and-effective"]
Technical Specifications
[ID tabella=5 /]
---
[tipo di contenuto="hmpro_snippet" name="hotmixpro-range"]
CHEF MASSIMO BOTTURA
"HotmixPRO is an incredible machine!"

"In order to maintain our high standards, we need reliable cooperators and suppliers."

CHEF LUCA MARCHINI
"HotmixPRO has become a key tool in our kitchen.
It takes away stress and allows us to be in control more easily.
The ability to use the recipe system to make any recipe perfectly repeatable (by anyone in the kitchen) is very appreciated."


CHEF EMILIO BARBIERI
"HotmixPRO is very innovative, it allows you to forget about it...
You can do something else and the machine will work correctly and won't spoil any recipe. So it's become very important in our workflow. [...] And you also have less things to wash."